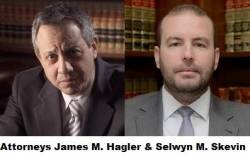 Chicago, IL, February 25, 2016 --(
PR.com
)-- Matrimonial attorneys James Hagler and Selwyn M. Skevin from the Law Offices of Jeffery M. Leving, Ltd. successfully reunited a devastated Rockford father with his 21-month-old baby daughter. The father had no contact with her for most of her life. Previous attorneys from other law firms had failed this father. He was ready to give up. When he finally contacted the Leving Law firm, he was skeptical anything could be done. The Leving team succeeded.
"This father had different lawyers who all failed him before coming to this firm. We did not!" said attorney Jeffery M. Leving. "Failure was not an option for us."
Attorney Hagler created a fantastic legal strategy to bring the father face to face with his baby daughter. Immediately, Attorney Skevin went to work. In court, his strategic arguments won. The court reunited the father with his baby, something all his prior lawyers outside of Leving Law thought was impossible.
This father thought all hope had been lost. He didn't think he would ever see his daughter again. The Leving Law team gave him his daughter back, and now he begins his relationship.
The Law Offices of Jeffery M. Leving is internationally known for rescuing children from around the world and reuniting fathers and children. The firm routinely does what others consider to be impossible. The firm's founder, Jeffery M. Leving, has been recognized by government leaders (including the last three U.S. Presidents and the Illinois House of Representatives), private industry, his peers, and non-profit agencies. His latest book, How to be a Good Divorced Dad, received praise from President Barack Obama, and was endorsed by the late Cardinal Francis George of the Archdiocese of Chicago.