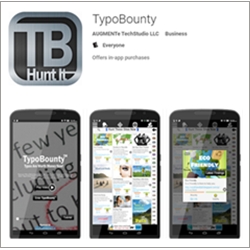 Houston, TX, March 03, 2016 --(
PR.com
)-- Internet content quality declined in the "texting era" as communication shortcuts and incorrect spellings have crept into the published content of businesses and serious websites and blogs.
Internet users are mobilizing to fix this.
The free TypoBounty app, in app stores now, allows internet users to apply their knowledge in identifying these writing errors in exchange for cash rewards, prizes and bragging rights.
Website owners ask internet users' help identifying and eliminating writing errors that have been proven to adversely affect sells, communication and the overall effectiveness of published content. As users of the TypoBounty app surf the internet, they simply report any errors they see through the features within the app.
"National Grammar day highlights the need of internet users to proactively protect published language online," says Earnest Decapolis.
There are trillions of writing errors online and billions more added daily. Incorrect grammar, poor punctuation and misspelled words litter the Internet. This requires a lot of cleanup effort and potentially offers billions of dollars of business for websites owners and payouts to internet users annually.
There is an average $2 payout for correctly identified and successfully reported writing errors. It's a potential bonanza for financially challenged college students and other internet users.
There are opportunities to win money with the TypoBounty word game all over the Internet. For Example: Using a popular search engine, we found the word "receive" was misspelled as "recieve" on 14,800,000 web pages. At the average payout of $2.00 per report, that's a potential $29,600,000 up for grabs and that is just one root word. Players can make some serious money playing this free online word game.
Participating internet users can use the free TypoBounty app and/or the TypoBounty toolbar to claim and report errors.
In this fun game environment, internet users can leverage their educations to improve internet content quality for themselves and others, while gaining cash, prizes and bragging rights in this global internet clean up and competition. Also, there is a $1,000,000 contest that one can enter by building a team using features within the TypoBounty app.
More info can be obtained at TypoBounty.com.