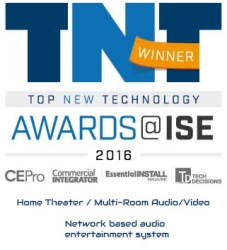 Ansbach, Germany, March 08, 2016 --(
PR.com
)-- Network based loudspeaker systems made in Germany prevail in two categories in the TNT@ISE Award.
The German company, Ascendo Immersive Audio (AIA) could prevail in the Top New Technology Awards@ISE in two categories: Not only in the subwoofer category, but also in the theatre/multi-room audio category, the South German audio specialists convinced the jury and brought home the awards from the ISE.
The keyword - Top New Technology - perfectly describes the AIA products: since these are consistently fitted with the newest technologies, especially for organising the sound transmission for the new cinema formats Dolby Atmos, Auro-3D and DTS:X. Due to the use of Ethernet-AVB directly on the 1 kW active loudspeaker complex 32 channel immersive installations can be easily coped with. CAT5 cables and a standard Ethernet switch are the only ingredients needed for uncompromising high-end cinema reproduction. Every single loudspeaker has a powerful digital signal processor (DSP) that can be controlled via the network. Thereby the delay and EQ can be quickly and precisely optimised by software. Using a tablet or a phone the system can, in day-to-day use, easily be remote controlled. All the technology has one single objective: uncompromising authentic and breathtaking reproduction of films and music.
Jürgen Scheuring, Head of Technology at AIA says, "AIA, as a relatively new company, was at this year's ISE in Amsterdam for the first time. The fact that we were awarded two of the much sought-after awards shows that we are on the right track with our uncompromising network based approach for multi-channel and immersive audio. We are honoured and would like to say thank you for the great trust placed in our company."
About Ascendo Immersive Audio:
Ascendo Immersive Audio (AIA) is a company that combines high-end audio with cutting-edge Ethernet-AVB network technology in order to realise home cinema and multi-room systems of the next generation. AIA uses active, DSP controlled systems that are easy to install and distinguish themselves with uncompromising audio quality. With AIA unique, emotional home cinemas can be realised. The systems are developed and manufactured in the company's headquarters in Ansbach, Germany. Worldwide distribution is done via specialist trade partners.
Ascendo Immersive Audio. simply.network.pleasure.