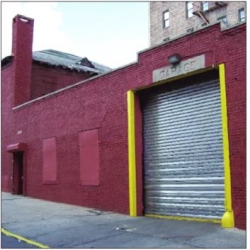 New York, NY, March 08, 2016 --(
PR.com
)--
LichtensteinRE
proudly introduces its new leasing division with an astounding first transaction that was finalized in only three days, from the potential tenants' first call until the lease was signed. LichtensteinRE found, advised and successfully arranged the leasing of 3,500 square foot property located at 674 Casanova Avenue in the Hunts Point section of the South Bronx to the Hudson Livery Company.
Akiva Weisz and Yossi Hollander, owners of Hudson Livery, a company that leases new cars to NYC medallion taxi cabdrivers as well as to independent ride sharing livery drivers like Uber and Lyft, contacted LichtensteinRE looking for the right warehouse space in The Bronx to expand their business for its second location. "Hudson Livery is very optimistic as they continue to expand their fleet of cars. They called me because they needed to quickly lease space that fit their budget and for a specific size space located in the Hunts Point section of the Bronx for their growing business," said Andrew Lichtenstein.
Andrew was able to identify the ideal location. The businessmen agreed and quickly signed a 5 year lease as the one story street level warehouse was perfect for their needs with around 500 square feet of office space plus 3,000 square feet for their fleet of new cars that they lease out to commercial and private drivers.
The warehouse is ideally located in Hunts Point in the South Bronx, near all highways, easily accessible, only minutes from Manhattan. This special location will allow Hudson Livery Leasing to better access its clients across the city. Additionally, it is less than half a mile from the 6 Train for convenient access for employees and customers.
LichtensteinRE represented both the tenant and the landlord in this transaction.
Andrew Lichtenstein is very excited to start this new leasing division that will come to complement the great work the company has been doing representing landlords when selling their commercial real estate assets. Until now, LichtensteinRE has been actively selling multifamily, mixed use and commercial real estate investment properties for its clients in and around New York City and arranging their commercial real estate financing.
"LichtensteinRE will continue using its market knowledge and expertise providing advisory and transaction services for landlords looking to lease their properties in the 5 boroughs of NYC. The company will use its connections and marketing platform to achieve the best possible results for all parties involved in every transaction," said Andrew Lichtenstein.
About
LichtensteinRE
LichtensteinRE specializes in the exclusive sales and financing of multifamily and mixed use commercial real estate properties in New York City's 5 boroughs. LichtensteinRE is a full service Commercial Real Estate Sales, Financing and Advisory Service Boutique based in New York City, the financial capital of the world. LichtensteinRE's proven experience, track record, financing ability, exclusive buyers and connections with tens of thousands of property owners assures their selling clients the best possible price when a landlord owner wants to sell their property.
DoctorMortgage, which is LichtensteinRE's financing division, has been a leader in commercial real estate mortgage debt financing since 1991. DoctorMortgage is able to negotiate and facilitate financing to deliver the best price, leverage and return on investment possible.
LichtensteinRE's greatest ability is creativity and problem solving. After selling the owner's property, LichtensteinRE has assisted successful sellers in locating replacement 1031 tax deferred exchanges and in some cases has more than doubled the seller's net income post-closing. To learn more contact Andrew Lichtenstein at (800) 242-9888 or
AL@LichtensteinRE.com