HIRE DIVERS Announces Invasive Species Removal Service for Lake George Private Dock Owners
On Tuesday, March 8th at a Bolton Landing Chamber of Commerce meeting, Hire Divers Association (HDA) announced that it will offer a small-scale Aquatic Invasive Species (AIS) removal service in 2016. This donation-based service of Volunteers will be called Hire Divers of Lake George and is to benefit private dock owners with the removal of AIS such as Eurasian Watermilfoil, Curly Leaf Pondweed and more. Hire Divers began offering AIS diving services in the Fall of 2015 to Cornell University.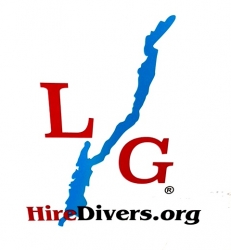 Bolton Landing, NY, March 15, 2016 --(
PR.com
)-- In 2015 Hire Divers moved to Norowal Marina which is located at 21 Sagamore Rd, Bolton Landing, NY 12814.
Formed by three Volunteer Recovery Scuba Divers to help victims of Hurricane Sandy, Hire Divers helps keep New Jersey, Pennsylvania and New York underwater environments clean. The organization always works within State and Federal guidelines as appropriate. This includes underwater pollution cleanup services at Round Valley Reservoir at the request of the New Jersey Department of Environmental Protection (DEP).
According to Founder and CEO Mark McNulty "I am very excited and honored to help with the fight against AIS at Lake George. Our core team of divers is trained in FBI-level Underwater Recovery practices. With our expansion into AIS Diving Services we will now incorporate training of our Divers in NYS Adirondack Park Agency (APA), LGPC , and NYS Department of Environmental Conservation (DEC) AIS identification and removal guidelines. One of the core aspects of the program will be to make sure that EPA protected aquatic species are left undisturbed. As always, we follow HAZMAT-level decontamination procedures for our Dive Boat the GUARDIAN, all Diver Equipment and any equipment that is used in the water when travelling from one water body to another."
Originally formed in Clinton, NJ in 2013, HIRE DIVERS is a 501(c)(3) Federally approved Nonprofit Public Safety Diver Organization. Their primary mission is to help the public who cannot afford to pay Divers during times of water-related emergencies. The Volunteer-based association pays no salaries and also performs a wide array of donation-based cold-water pollution cleanups, personal loss recoveries and equipment salvage dives.
For more information about how to donate to HIRE DIVERS go to www.hiredivers.org or call Mark McNulty, Founder, at 1-323-834-8377 Email address is hiredivers@gmail.com.
Contact
HIRE DIVERS
Mark McNulty
1-323-834-8377
hiredivers.org

Contact