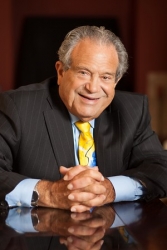 Ramona, CA, March 16, 2016 --(
PR.com
)-- Cyril (Cy) Roseman, Ph.D., of Ramona, California has been recognized as one of the Top 10 Men of the Year for 2016 by Strathmore's Who's Who Worldwide for his outstanding contributions and achievements in the field of financial consulting. He was honored on the Reuter's Billboard in Times Square, New York City on February 5, 2016.
About Cyril Roseman, Ph.D.
Dr. Roseman has 24 years experience in the financial field. He is a FNRA Registered Financial Representative through his firm, Bridgewest Financial and Insurance Services, which provides financial services in Ramona, California and throughout San Diego County. He specializes in retirement planning, estate preservation, 401Ks, IRA rollovers and college funding. Dr. Roseman has developed a unique approach to IRA's for those ages 55+, called Freedom 4 Life IRA Rollover/Transfer, and he also promotes investor opportunities through 1031 Real Estate Exchanges, alternative investments (REIT's, BDC's, Mortgage Loans and Equipment Leasing), Unit Investment Trusts, Indexed Annuities, Universal Life Policies, and College 529 programs. Dr. Roseman also offers a special fast track Retirement Goal Analysis/Plan and a lifetime Retirement Annual Distribution Planning System for seniors.
Dr. Roseman is a CFP practitioner, as well as an Accredited Investment Fiduciary. He works on both a fee based and commission-based reimbursement system. He has clients in California, Hawaii, Nevada, Colorado and Arkansas. Dr. Roseman was born on August 6, 1936 and obtained a B.A. from Temple University in 1957 and a Ph.D. from Princeton University in 1963. He is dedicated to the Masons, the Shriners, the Rosicrucian Order and Self-Realization Fellowship. In his spare time he enjoys travel, reading, fitness, movies, global politics and economics, swimming, mineral water spas, poetry, cooking and live theatre.
For further information, visit
www.way2retire.com
.
About Strathmore's Who's Who Worldwide
Strathmore's Who's Who Worldwide highlights the professional lives of individuals from every significant field or industry including business, medicine, law, education, art, government and entertainment. Strathmore's Who's Who Worldwide is both an online and hard cover publication where we provide our members' current and pertinent business information. It is also a biographical information source for thousands of researchers, journalists, librarians and executive search firms throughout the world. Our goal is to ensure that our members receive all of the networking, exposure and recognition capabilities to potentially increase their business.