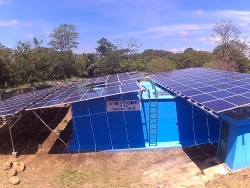 San Rafael, Alajuela, Costa Rica, March 21, 2016 --(
PR.com
)-- Thursday Aresep held its final public meeting on the pricing structure for the new distributed solar program. It is scheduled to open with compliance of the power companies in Costa Rica April 7th, 2016. I.C.E., the main power company, and Acesolar, the solar installers organization, have been negotiating the costs for net metering with compromises sought by Aresep.
The new solar program was planned for opening October, 2015. What caused the delay was the need to determine the cost imposed by the power companies to allow distributed solar owners to use the grid for net metering. Net metering allows the solar owner to run their meter both ways. When the solar array produces more power than the consumer uses, the meter runs backwards, counting down in kilowatt-hours. At nighttime when the solar array is shut off, the consumer uses the power from the grid running their meter forward. According to the new program, businesses and homeowners will be paying an access fee of from 11 Colones to 28 Colones for each kilowatt-hour that their solar array runs their meter backwards. For self consumption, which is electricity that is used by the consumer when it is produced, there is no charge by the power company. Considering that current I.C.E. residential consumers pay up to 142 Colones per kilowatt-hour, there is a 114 Colones gain for the consumer with power sent to the grid. Because of different rates charged for electricity by the various power companies in Costa Rica, each one will have a different access fee.
The cost vs. payment schedule for I.C.E.:
Electric Company
A. Access fee for electricity sent to the grid ¢/kWh
B. Price Paid by Residential Consumer ¢/kWh for over 200 kWh/month
C. Price Paid by Small Commercial Consumer ¢/kWh
I.C.E 28,26 - ₡ 142,80 - ₡ 119,30
Cnfl S. A. ₡ 17,99 - ₡ 110,16 - ₡ 117,34
Jasec ₡ 14,64 - ₡ 89,98 - ₡ 103,92
Esph S. A. ₡ 11,60 - ₡ 84,57 - ₡ 90,20
Coopelesca R. L. ₡ 27,30 - ₡ 92,65 - ₡ 95,64
Coopeguanacaste R. L. ₡ 21,31 - ₡ 97,56 - ₡ 102,10
Coopesantos R. L. ₡ 29,74 - ₡ 134,81 - ₡ 161,11
Coopealfaro Ruiz R. L. ₡ 28,61 - ₡ 95,75 - ₡ 103,12
To help the consumers that cannot pay for the system upfront, there are Costa Rica banks that offer lower interest loans for solar projects. Now that solar installations have dropped in price, electricity from rooftop solar can cost less than power from the grid. Installing solar with little or no money down opens the possibility up to many new consumers.
As an example of savings expected, Solar Costa Rica S.A. recently installed 160 solar panels to provide power to run the first municipal water well in Central America on solar energy. That installation, along with advanced motor control, has reduced a $2,000 per month bill for ASADA San Rafael to a few hundred dollars. Some of the sunniest months are projected to operate the well completely on solar power. The expected savings to the water district over the 25 year power production warranty of the solar panels is in excess of six million dollars.
In addition to lowering power bills, solar arrays also increase property values. In 2015, a group led by the U.S. Department of Energy's Lawrence Berkley Laboratory found that home buyers in the United States are willing to pay more for homes with solar energy systems. That value is about $4 per watt of PV installed. This price is well above the price per watt for recent solar installations in Costa Rica. That means a 5,000 Watt system in the US would be worth on average $20,000 in the resale value of the home. And Costa Rica residents pay 2-3 times more per kWh for electricity. Add in the average annual increase in electricity prices of over 10% per year, and solar becomes a valuable investment with excellent returns.
Low prices, financing, and experience of quality installers under the Pilot Program are all in place to make solar become a large part of the clean energy mix in Costa Rica. All of these factors are expected drive a resurgence in an industry that was providing 1,600 jobs before the previous solar program closed last March. This is good news for Costa Rica who is being used as a clean energy example for the rest of the world to follow.
Costa Rica's Carbon Neutral 2021 mandate is drawing near. With abundant sunshine and wind, and laws that provide for access to the grid, solar and wind power are expected to dramatically lower the reliance on the bunker fuel burning plants. Those plants make up 22% of the installed capacity of this Eco-minded country. By expanding these reliable clean energy sources, even in drought years Costa Rica will be able to boast running the grid on totally renewable energy.