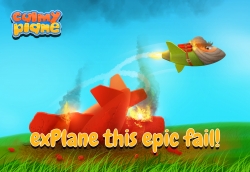 Sofia, Bulgaria, April 27, 2016 --(
PR.com
)-- In a sky far-far away...there was a little plane, trying to go home.
But the sky can also hide dangers...
Terrorist, Communist, Dictator and a grumpy cloud will do everything in their power to destroy you. They are evil, cunning and ruthless. They will try to burn you into pieces. And here comes the moment when you think you are flying, but sooner or later you know you will die. If the game is easy, you are cheesy. If you got a PlaneOver; you didn't play good enough for sure.
The team behind Calmy Plane hopes to tap into the market of people who enjoy light-hearted games with cheeky characters. The idea behind the sciences was to take current events and insert a touch of gallow's humor.
"There's a reason to play Calmy Plane - a host of reasons, really. In addition to catchy cartoon-worthy animation, easy-to-learn game play, a steady progression of difficulty. At first glance the game looks easy, but only a moment of inattention can cause a disaster, even an attack boomer - if you know what I mean," says Stoyanov.
The audience needs to know that Calmy Plane is a fun, addictive game based around destruction and fear (Calmy wants to get back home, but he meets personifications of terrorism).
Keep calm and enjoy the flight.
Google play:
https://play.google.com/store/apps/details?id=com.pako.calmyplane
Website: http://calmyplane.com/
Media
Trailer: https://www.youtube.com/watch?v=3TssV269kdQ
Full Media Pack: https://drive.google.com/open?id=0B6ifuR-JIsM-MXc4V0hNRFZlX0k