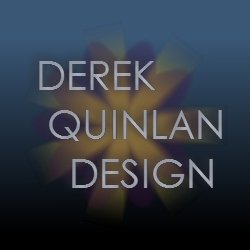 London, United Kingdom, April 21, 2016 --(
PR.com
)-- Derek Quinlan Design is a bespoke design firm that offers tailor-made designs that will help you or your business get your message across through the use of smart, sophisticated and understated design. Having a brand identity in this day and age is essential and Derek Quinlan Design, despite the young age, has already helped many firms get their message across. With a combination of print and web experience, Derek Quinlan Design has been able to unify previously disparate areas of business brands and strengthen their core message for users. Here, they will give some of their favourite design advice:
Being unique when you design is obviously a core principle when designing a look for a new company, however it is important to not vary your design too much from others in the company's industry. Making your logo stand out is great but if you go against the grain too much, you risk looking unprofessional; think about how many law firms have bright pink and green logos? Standing out is something that every brand wants to do, but it's important that this is done through clever design and not an overload of primary colours; throughout the Derek Quinlan Design portfolio this idea of understated, unique design is a common thread.
Understand the brand's audience.
Derek Quinlan Design
knows that this is key when designing a firms overall design language. If your brand primarily appeals to the elderly, having a logo or designs that feature ornate or complicated fonts will only impair the user experience. Also, in the current digital landscape, in which logos and banners will appear on both multiple devices and social media, you need something that can adapt to fit all these styles. Having a recognizable feature, rather than a logo comes in handy here and allows you to adapt to different mediums, something that is vital in our age.
Like many design firms, having consistent sources of inspiration is very much encouraged. If you are a designer try collating every single piece of design you find inspirational or enjoy viewing. Tear out pages from magazines and put them in a folder. On the web, use a program like OneNote or Evernote to save the pieces of design you find interesting. If you dabble in programming and design, trying saving the source code and figuring out how it works. At Derek Quinlan Design, notebooks filled with inspiration are a tool that is used all the time. When starting a new design for a client, having a gaze over what you, personally, enjoy helps to solidify your own unique approach to design, and helps to keep you motivated.