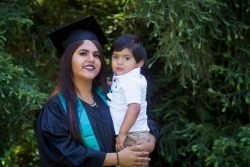 Palo Alto, CA, April 22, 2016 --(
PR.com
)-- Teen mothers on a pathway to college – Nine teen mothers will be awarded college scholarships at Teen Success, Inc.'s Fourth Annual Scholarship Luncheon being held in Palo Alto on April 28th at the Garden Court Hotel. On an annual basis, the Teen Success, Inc. Scholarship Program provides merit-based scholarships to graduating teen mothers from the Teen Success, Inc. program to support them in pursuing their post-secondary educational goals. A total of 21 scholarships have been awarded to teen mothers since the Scholarship Program's inception in 2013.
The Luncheon being held on April 28th will recognize this year's nine scholarship recipients, most of whom are the first in their families to attend college. Sandra Flores, Senior Program Officer for the Central Valley Community Foundation, will deliver the keynote address. Ms. Flores, a former teen mother herself at 16, will provide a motivational message to the scholarship recipients and will speak of the importance of investing in teen mothers and their children. There will be over 150 people in attendance including Teen Success, Inc. supporters, community stakeholders, and the scholarship recipients and their families.
The mission of Teen Success, Inc. is to help underserved teen mothers and their children become educated, self-sufficient, valued members of society. The organization was founded in 2011 by former California State Senator Becky Morgan to help teen mothers graduate from high school and to develop the skills to nurture their child's positive development. Teen Success, Inc. implements programming at 19 sites throughout the Bay Area, Monterey County, and Central Valley of California.
"When you help a teen mom you are changing not just one life, you are changing two," said Karin Kelley-Torregroza, Executive Director of Teen Success, Inc. "These scholarships not only provide financial support for their education, but they also provide the motivation for these young mothers to continue striving for their goals. They want nothing more than to create better lives for themselves and their children."
"This scholarship means a great deal, not only to me, but to my family as well," explains Karen Garcia, 18, of the Central Valley. "I want to continue my education to provide a better future for my son and to serve as an example to other teen moms."
In California, there were more than 30,000 births to teen moms in 2013. The challenges of early parenthood are significant: 70% of teen mothers in California drop out of high school, one-fifth of teen moms have a second birth as a teen, and children born to teen mothers are more likely to score poorly on measures of school readiness. Teen Success, Inc. uses an evidence-informed program model in which first-time teen mothers and their children meet once a week throughout the year to develop their skills, receive peer support, and connect to resources that help them reach their goals. 94% of Teen Success, Inc. members have graduated high school or are on track to do so, as compared to 40% of teen mothers nationally.
About Teen Success, Inc.: Established in 2011, Teen Success, Inc. is a nonprofit organization that supports teen mothers and their children to get on the pathway to self-sufficiency and success. Teen Success, Inc. provides a peer support group program that addresses education and career, parenting, goal setting, and health and wellness. Teen Success, Inc. uses a strengths-based approach that respects, values, and harnesses the teen mother's own potential in order to shape her and her child's future. The program offers teen mothers membership into a support group in which they are mentored by professional facilitators and develop trusting, supportive relationships with their peers, who together inspire and empower them to reach their potential. http://www.teensuccess.org