University Realty Helps Students to Buy or Rent Condos in Chase Hollow
University Realty is familiar with Chase Hollow condos and understands that there is a great interest in condos and wants to help further this interest in order to help students and parents buy a condo in Chase Hollow, Gainesville, FL.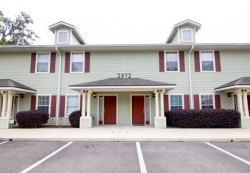 Gainesville, FL, May 05, 2016 --(
PR.com
)-- The condos are near the bus routes to University of Florida Campus and are situated close to Southwest Recreation Center. The community features include: swimming pool, fitness center, park and bus service. The condos currently are priced for sale between $129,900-$143,900. The floor plan features a 2 bed/3 bath plus an extra room downstairs that many parents or students utilize as an office, guest room, or extra dining area.
University Realty understands that choosing a place to live while in college or graduate school can be overwhelming, so they want to help the students and/or their parent make a living selection that they will be satisfied with. University Realty knows that parents and students have a tight budget to work with, after factoring in the cost of school and living expenses. To help people better see what their options are for condos for sale in Gainesville, FL, University Realty added on its website a variety of announcements which include
condos to buy or sell in Gainesville, FL
that fit their needs.
It chose this region because Gainesville is situated in the center of Florida, and offers an affordable cost of living and from here the rest of the state can be easily accessed. It is close to the most beautiful places in the state such as St. Augustine and Jacksonville, Cedar Key, Tampa, Atlanta, Miami and other important landmarks. To find more about the condo sales or rent in Chase Hollow Gainesville, visit the website for University Realty.
University Realty is an organization founded by Eric Leightman and Matt Price that has helped customers buy and sell an unprecedented $150 million in condos near the University of Florida. Also, in 2009, Eric was named one of the top real estate professionals in the entire nation. Since 2004, Eric and Matt have helped students buy and sell condos near the University of Florida. Matt and Eric has helped more than 700 parents and students purchase condos in Gainesville, including several people purchase in Chase Hollow.
Contact
University Realty
Matt Price
(352) 281-3551
http://www.condosingainesville.com/

Contact