Private Bank of Decatur Adds Asif Mujtaba to Team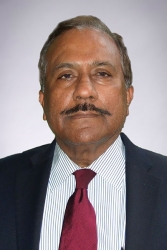 Decatur, GA, May 10, 2016 --(
PR.com
)-- Private Bank of Buckhead has named Asif Mujtaba as Senior Vice President and Relationship Manager. He will be based out of the
Private Bank of Decatur
location, and service customers across the Metro area.
"Asif has such an accomplished banking career," says Brent Adams, Executive Vice President and Chief Banking Officer of the bank. "In addition to his global experience with different cultures and economies, he has the proven ability to win and retain business in a very challenging and competitive market."
He received a Bachelor of Commerce degree from the University of Karachi, as well as attending the Institute of Chartered Accountants in London. After spending 11 years in the United Kingdom, Asif moved to Atlanta in 1981. "Especially having been in Great Britain, I was unused to strangers speaking in elevators and other public places, but I really enjoy southern hospitality and the warmth and openness of Southerners," he says.
In 2010, Mujtaba relocated to Chicago as Regional President for an Atlanta-based community bank, but recently returned to Georgia. "I wanted to reconnect with my Atlanta customers," he says, "and I really missed the weather."
Inspired by his father, Mujtaba regards honesty and integrity as the cornerstones of his success. "My dad grew up in India during the struggle for independence from British rule. He was a courageous person of great moral character who was never afraid to stand up for his beliefs or confront injustice or oppression," he says.
Mujtaba lives in the Northlake area. His wife Sameen, who teaches high school French, and his son Nader will join him here after his son completes his freshman year of high school in Illinois. His daughter Aalia and 8-year-old grandson Damien also reside in Atlanta.
Outside of work, Mujtaba enjoys hiking, photography and traveling, and is currently training for the Peachtree Road Race (for 2017). He previously volunteered with Meals on Wheels through Decatur First United Methodist Church, and looks forward to returning to that and other community activities.
Private Bank of Buckhead brings a private banking approach to all clients across all functions of the bank. The bank – now in its 10th year – is designated a Preferred Lender by the U.S. Small Business Administration, and includes a dedicated mortgage solutions unit, PrivatePlus Mortgage. Private Bank of Buckhead is located in Piedmont Center (Building Three). Private Bank of Decatur is located at 150 East Ponce de Leon Avenue in Decatur, at the corner of Ponce and Church Street. The mortgage division is represented in both Buckhead and Decatur, and does business nationally – 50 states and the District of Columbia.
Mujtaba can be reached at 404-809-3932 or AsifMujtaba@PrivateBankOfDecatur.com. NMLS # 1489380.
Contact
Private Bank of Decatur
Drew Plant
404-634-7102
www.PrivateBankOfDecatur.com

Contact