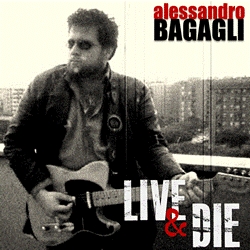 Rome, Italy, May 16, 2016 --(
PR.com
)-- A man ain't dead until he's really died.
That's how the brand new album Live & Die by Alessandro Bagagli starts with its title track which you can listen to at the artist's Official website www.alessandrobagagli.com. A stunning rock album of 15 songs surfing among rock, blues, soul, funk, alternative and hard rock that leads the listener into a world of original sounds and a rich personality. The album will be available in June 10, 2016 together with an album digital booklet featuring photos, lyrics, album credits/notes and social links to get in touch with the Italian songwriter.
After the prog rock experience of 2015 Primal Life, this new work, Live & Die starts with a claim of victory of the human kind, despite of the actual social and political time: we can live, we must take our lives by the hand and give them to one another though we experience broken dreams, illusions and frustrations: because a man ain't dead until he's really died. Ours is a struggle to survive and we've got the strength to work it out because we are alive. Alessandro keeps talking about the paradox of loneliness in the social communication era, where everything is sold by media, in contradiction with the fears of the younger generations for a future appearing uncertain and with no shared values to believe in.
15 songs talking about love, fears, life & death. A death which is like to be born again to a more significant life. Alessandro Bagagli's music appears to be original and various in its rock, funk, soul and hard blues styles. The album will be available on iTunes, Amazon, Google Play, CdBaby and Alessandro Bagagli Official Site, but even on Spotify, Shazam and more. Save the date: June 10, 2016.
"Fans are so hard to get and you've got to listen to them because you need them," Alessandro says. So the Italian rock artist has planned a social event among his social followers to let them choose the new single among five songs taken from the new album: How you're feeling now, Ready to Soar, What I swear to you, An Angel and (I wish I were) In California before Dawn.
A video of the chosen song will be released at the end of the event, with fans' video material inspired by the song.
Exclusively for Bandcamp fans it is already possible to pre-order the album Live & Die and get soon one song an the album digital booklet.
More info, electronic press kit, new album digital booklet and album preview on
www.alessandrobagagli.com
.