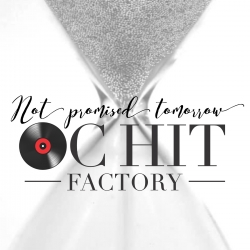 Tustin, CA, May 24, 2016 --(
PR.com
)-- OC Hit Factory (OCHF) chooses ten artists with tremendous potential to embark on a European tour. At OCHF's songwriting camp on May 14, an all-star cast of artists collaborated in studio to shoot the music video for "Not Promised Tomorrow."
OCHF's executive producer and founder, Thomas Barsoe, always encourages young talent, "You're not promised tomorrow. Right now is the time to live your dream. Follow your dream. So, live each day like it's your last."
"Not Promised Tomorrow" is not only the brainchild of the songwriting camp but also a catalyst to send ten OCHF soloists to Europe. Nine of the ten, who have been selected, will be announced in the upcoming weeks. The tenth spot is "up for grabs" leaving the last spot to be determined by the "People's Choice." Lead solo vocalists will submit a video of themselves singing a cover song. Friends, family, and fans will vote for their favorite music video submissions. The "People's Choice" will be a strong contender for the tenth member of the OCHF All Stars.
Watch the "Not Promised Tomorrow" music video on YouTube:
https://youtu.be/4RcrfpJCFHg
As a native son of Copenhagen, as well as, certified platinum and gold recording artist, Barsoe has always loved the idea of promoting music across borders as sort of a cultural exchange. There will be cultural shock in Denmark for the young American artists when they see four hundred-year-old straw houses and bicycle riding locals. Likewise, it will be quite a shock for Danes, who come to Orange County, Calif., and see palm trees and big luxury cars. The OCHF All Stars' tour promoting "Not Promised Tomorrow" will kick off a cultural exchange program. With the success of Lukas Graham, the stage has been set for such an exchange program. Graham epitomizes the ultimate underdog story. Having come from Christiania, a free hippie state in the middle of Copenhagen, Graham has broken down the doors for not only Danish artists but artists all over the world.
OC Hit Factory, a subsidiary record label under Sony Music Entertainment, offers record deals, recording studios, songwriting camps, vocal and instrument lessons, artist management and development, and a live music venue to elite and exceptionally talented aspiring artists. OCHF prides itself as the number one, innovative, pioneering music powerhouse in Orange County.