Professional Plastics Named 2016 Family-Owned Large Business of the Year
Professional Plastics was recently awarded Family-Owned Large Business of the Year by The Orange County Business Journal.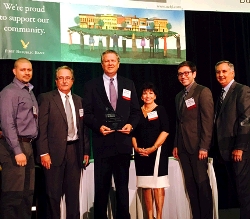 Irvine, CA, June 23, 2016 --(
PR.com
)-- The Orange County Business Journal recently named Professional Plastics, Inc. as it's 2016 Family-Owned Large Business of the Year. The journal which recognizes firms that have distinguished themselves via their business accomplishments and contributions to the local community, is the second-largest business journal in the state of California, with a weekly circulation of more than 20,000 copies. CEO David Kietzke accepted the award of behalf of the company at a luncheon in Irvine on June 21st.
Professional Plastics, Inc. specializes in the distribution and fabrication of engineering plastic shapes (sheets, rods, tubing, films). Established in California in 1984, the company operates 19 full-service locations in the USA, Singapore and Taiwan, employing more than 300 people, and reporting annual revenues exceeding $ 125 million dollars. The company also maintains one of the most widely visited websites in the plastics industry with more than 200,000 unique visitors per month.
Starting a family-business is one thing, keeping a family-business together for more than 30 years is quite another. When founders; Larry, David and Mike Kietzke launched a small plastics distribution company in 1984, they never imagined that more than thirty years later the company would still be thriving, and their family ties would continue to grow along with the business.
Professional Plastics was established in October 1984 with two initial California locations; Anaheim and Santa Clara. The Anaheim location served as the companies' headquarters, and was managed by Larry Kietzke, and his eldest son David. The Santa Clara location was Larry's son Mike, who was soon joined by key employees Delia Smith and Bill Widby who helped build the companies' most profitable location. By 1992', younger brother Chris had completed college and joined Mike in San Jose, while youngest brother Rich had also joined the team.
Over the years, several other family members made contributions to the company including Larry's wife Patricia, daughters Lori and Pamela, and several of their grandchildren. The company is currently the sixth largest supplier of engineering plastic shapes in North America while remaining 100% family-owned, and operated.
Upon Larry Kietzke's retirement in 2006, David Kietzke assumed the title of CEO, and Mike Kietzke assumed the role of Executive Vice President. Chris Kietzke is the VP of Marketing and runs the companies' Asia Businesses. David's sons Brent and Jeremy joined the company in the ensuing years, as have Mike's sons Daniel and Jordan. The company extends special recognition to it's dedicated staff and key employees such as Scott Patten (COO), Mark Casey (VP of Sales), and Keith Sremaniak (CFO) for their significant contributions over the years.
For more information about the company, visit www.professionalplastics.com or https://twitter.com/Pro_Plastics
Contact
Professional Plastics, Inc.
Chris Kietzke
888-995-7767
www.professionalplastics.com
1810 East Valencia Drive
Fullerton, CA 92831

Contact