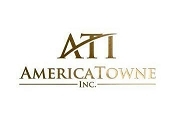 Raleigh, NC, June 27, 2016 --(
PR.com
)-- AmericaTowne, Inc.®, a Delaware corporation (the "Company") announced that it has acquired the majority and controlling interest in Global Recycle Energy, Inc., a Nevada corporation ("GREI"; OTC Pink: GREI).
Alton Perkins, Chief Executive Officer and President of the Company commented, "Our goal from inception of AmericaTowne has been to expand and diversify our operations and holdings, and to continue to evaluate acquisition targets in furtherance of our short-term and long-term objectives. We believe that this acquisition, and the potential for a business combination with a partner or two within this entity, using the AmericaTowne platform, will further these objectives."
Please call the Company at (888) 406-2713 if you have any questions. For investor information you may obtain a written prospectus by contacting the Company at the foregoing telephone number or by writing to the Company at AmericaTowne, Inc., Attn: Investor Relations, 4700 Homewood Court, Suite 100 in Raleigh, North Carolina 27609.
About AmericaTowne, Inc.®
AmericaTowne is incorporated in the State of Delaware. AmericaTowne's objective is to provide upper and middle-income consumers in China with "Made In The USA" goods and services allowing customers to experience the United States' culture and lifestyle. AmericaTowne is a publicly reporting company with the United States Securities and Exchange Commission, and its quarterly and annual reports, and periodic disclosures may be found at www.sec.gov/edgar and also at www.americatowne.com.
Forward Looking Statement
This press release contains forward-looking statements that relate to expectations, beliefs, projections, future plans and strategies, anticipated events and similar expressions. Forward-looking statements may be identified by use of words such as "may," "will," "should," "expects," "intends," "plans," "anticipates," "believes," "estimates," or "potential" or similar words or phrases which are predictions of or indicate future events or trends. Statements such as those concerning potential acquisition activity, investment objectives, strategies, opportunities, other plans and objectives for future operations or economic performance are based on the Company's current expectations, plans, estimates, assumptions and beliefs that involve numerous risks and uncertainties. You are cautioned not to place undue reliance on any forward-looking statements and the Company disclaims any obligation to publicly update or revise any forward-looking statement to reflect changes in underlying assumptions or factors, new information, future events or other changes. Please refer to Company's filings with the Securities and Exchange Commission for further information.
Contact: Alton Perkins, Chief Executive Officer, (888) 406-2713, ap@americatowne.com
Source: AmericaTowne, Inc.
www.americatowne.com