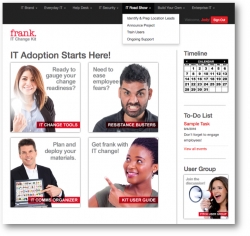 Minneapolis, MN, June 28, 2016 --(
PR.com
)-- The Frank IT Change Kit, an innovative, award-winning IT change management and communication solution, is getting better. Frank, LLC is excited to announce the launch of its new "modular" Frank IT Change Kit, an industry-first that uses a uniquely-designed change management and communication structure to create new support options for ongoing IT change.
The need to accelerate IT change.
By 2017, North American organizations will spend more than $1 trillion on new technology to improve their businesses* but struggle with successfully implementing it: the Frank IT Change Kit works like an insurance plan to optimize the ROI on this massive tech investment.
The right tool makes all the difference.
The modular Frank IT Change Kit was inspired by IT project teams in need of more flexible change and communication tools. "Our ready-made Enterprise IT Change Kits have been successful," says John Nielson, Director of Business Development, speaking about Frank's existing Enterprise Kits for ERP, HCM, CRM and ITSM implementations. "Then, our customers came to us with other IT initiatives on their plate as well – ongoing IT upgrades, Help Desk needs, a desire to 'brand' their IT Department – so we acted."
Total modularity, total freedom.
The modular Frank IT Change Kit offers individual change-communication "modules" from which a customer can choose. Complete with ready-made, editable templates, the modules range from IT Branding and Security campaigns to Tech Upgrades and Process Change materials to Enterprise IT modules that can be tacked on as projects pop up. These include condensed versions of standard Frank Enterprise Kits such as ERP, HCM and CRM as well as new technologies including EHS, LMS, QMS and more. Each Frank IT Change Kit module contains 20-30 unique IT communication pieces delivered in Microsoft Powerpoint and Word documents as well as best-practice deployment usage tips.
IT change gets creative.
Customers can get up and running with a Frank IT Change Kit by choosing 3 (three) of the nearly 20 IT change modules currently available; each module is priced at $5k each. Next, customers then choose their modules in one of four different campaign themes that best fits their company culture or internal brand standards. And, of course, mixing and matching is allowed.
Frank Marketing Director, Jody Kolars, sums it up, "By giving IT teams change-based, marketing materials they can choose, edit and deploy on their own is turning traditional change management on its head."
Training Director Elissa Gjertson agrees, "We always want to make heroes out of our customers – equip them with action-oriented tools that help them break free from 'analysis paralysis' common with traditional change management – so creating a more modular way to do IT change was a natural solution. Nobody wants change 'done' to them. The Frank IT Change Kit lets people own their change process and engage employees in an authentic way they create for themselves."
Add on the fact that every Kit includes Frank's best-practice IT Change Tools and Resistance Busters – 20 change readiness workbooks and guides ranging from targeting end-user segmentation to conducting an effective Stakeholder Analysis to unearthing resistance & risk – as well as Frank's interactive Kit training session that "upskills" IT project teams, and it's a new day for IT change.
Additional information
Full details on the Frank IT Change Kit are available at www.areyoufrank.com.
About the Frank Change Kit:
The Frank IT Change Kit was created as a ready-made, cost-effective Change Management & Communications solution that empowers IT project teams to engage employees and accelerate user adoption. With nearly 20 "IT Change Communication Modules" from which a customer can choose, the Frank IT Change Kit also comes in four creative campaign themes that align to a diverse range of company cultures and internal brand standards. Accessible for 2 years to 10 IT project team members via a password-protected portal, the Kit includes ready-made, editable IT change and communication templates as well as best-practice communication planning and deployment tools that lead IT professionals through the entire lifecycle of an IT project. The Frank IT Change Kit optimizes a wide variety of IT Department needs from IT branding and ongoing IT projects to Help Desk and IT Security as well as ERP, HCM, CRM and ITSM implementations including Epicor, Microsoft Dynamics, Oracle, Salesforce, SAP, ServiceNow, SuccessFactors, Workday and many more.
*IDC "Worldwide Semiannual IT Spending Guide," February 2016: https://www.idc.com/getdoc.jsp?containerId=prUS41006516