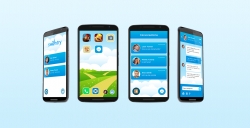 Palm Springs, CA, July 18, 2016 --(
PR.com
)-- With today's headlines showing constant threats on our children; WorldFlix proudly announces the cutting edge security features of coming Swantry App could safeguard access to children's identities or messages.
WorldFlix, Inc., (OTC PINK: WRFX) through its wholly owned subsidiary, App Farm, in an effort to guard against the spectrum of internet exploits and vulnerabilities assailed at today's youth, announces near completion of the Company's highly anticipated triple encryption internet safety protection application, Swantry. Designed with the protection of Children in mind, the robust cutting-edge integrated software is fortified with the latest in encryption technology, guarding users with optimum up-to-date privacy and security.
SWANTRY is a part of the WorldFlix family of companies (Symbol: WRFX)
Examples of recent news headlines:
Recent Headline: Moms sues major chat app for porn found on her sons phone.
Solution: Had that mother used the Swantry app, her sons phone and her son could have been protected and allowed for her to help monitor and engage in a dialogue with her son towards a safe usage of a smart device.
Another major headline this week: Facebook adds end to end user encryption and disappearing messages to Facebook Messenger.
Solution: Swantry has triple paranoid military grade, end to end user protection. What it doesn't have is disappearing messages that allow children to hide potentially dangerous or sexually related messages. Instead, Swantry will use propriety algorithms to help parents identify when a child maybe engaged in unsafe dialogue or behavior without removing the child's ability to have privacy.
Swantry is designed to operate on a foundation of trust and dialogue, children are enabled to discover and utilize digital services and smart devices responsibly, while incorporating revolutionary military-grade technology that provides a level of security unparalleled in the industry.
Swantry's Primary Features Include:
1. Safe socialization: Set a list of trusted contacts together with your child and you don't need to worry about who they chat with or who can contact them. Children's privacy is Swantry's top priority, so parents naturally can't see the messages between their children and their trusted friends.
2. Limit app usage: Set a variation of time limits for the respective apps, and block certain apps completely. You can also set different time profiles, which means there's no playing when it's time for homework or bedtime.
3. Internet filter: featuring a spectrum of powerful Parental Control filters for the Internet. Based on the age of your child, if required, web-browsing can be blocked completely.
4. Chats: This capability enables group chats with the potential to incorporate the whole family, with video capability of up to 4 people.
5. Geo-fencing: This indispensable feature enables the instant location of a missing device or child on a map, empowering parents to set boundaries for children where they can travel safely and how far they shouldn't go.
6. Curfew: This traditional and important condition meets simplified accountability, as both the parent and the child can exercise notification options when the appointed time approaches.
7. Integrated Design: Following installation, a device can be set on "Child mode" enabling children to utilize it freely. Swantry's safety nets deliver reassurance and peace of mind.
Swantry is a development of App Farm, which is a wholly owned subsidiary of the publicly traded company, WORLDFLIX, INC. (OTC PINK: WRFX).
Forward-Looking Statements: "Safe Harbor" statement under the Private Securities Litigation Reform Act of 1995: This press release contains forward-looking statements within the meaning of the Securities Litigation Reform Act of 1995. These statements are based on current expectations, and are to a certain degree uncertain. Words such as expects, anticipates, intends, believe, plan, will and similar words are expressions intended to identify these forward-looking statements. These statements involve risk and subsequently are difficult to evaluate. Actual results may vary from descriptions herein due to many factors including but not limited to changes in business conditions, changes in laws and regulations, problems encountered in exploration and obtaining permits, changes in the competitive environment, technological advances, shortages of skilled workers, the need for additional capital and other risks listed in the company's Securities and Exchange Commission filings under "risk factors" and elsewhere. Forward-looking statements speak only as of the date they were made, and the company is under no obligation to update them.
For More Information, Please Visit: www.worldflix.co