PrivatePlus Mortgage Adds Jeremy Winston Smith to Team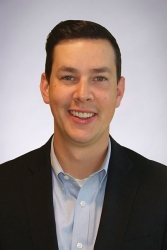 Atlanta, GA, August 05, 2016 --(
PR.com
)-- PrivatePlus Mortgage, a division of Private Bank of Buckhead, has named Jeremy Winston Smith as a Vice President and Mortgage Banker.
"A hard-working and dedicated loan officer, Jeremy will exhaust every option to make sure that he finds the perfect match for a client's financial goals and needs," says Dan Smith, President of PrivatePlus.
Born and raised in Memphis, Jeremy Winston Smith (his middle name Winston also was his grandfather's name; grandad was named after Winston Churchill) previously worked as a roofer, a chef, a barista, and even a repossession agent before settling into a career in finance. "There is nothing more rewarding than helping clients realize their dreams of homeownership and financial relief," he says.
Smith gained industry experience working in Alabama and Massachusetts before relocating to Atlanta for his wife's job at the CDC in 2014. "I've worked for big banks and small banks. I know the pros and cons of each and I can tell you that PrivatePlus is the best of both worlds," he says, "bringing the efficiency of a larger organization together with the personal touch and tailored service of a smaller organization."
Outside of work, this former chef enjoys cooking and staying active in the community. Smith volunteers for several organizations including the Appalachia Service Project, Habitat for Humanity, Atlanta Food Bank, and the Metropolitan Inter-Faith Association. He and his wife live in Tucker with their adorable and well-behaved yellow lab.
PrivatePlus Mortgage promises great products, pricing, processes and people. It offers a full range of mortgage products: Purchase, Refinance, Investment, Jumbo products, Second home, Construction, Multiple collateral, Fixed second, Home equity, Lot loan, and more. It is located in Piedmont Center (Building Three), and originates mortgages in all 50 states and the District of Columbia. In addition to the mortgage division, Private Bank of Buckhead – now in its 10th year – also includes a Decatur location, known as Private Bank of Decatur.
Smith (NMLS # 916341) can be reached at 678-298-0771 or JSmith@PrivatePlus.com.
Contact
PrivatePlus Mortgage
Drew Plant
404-634-7102
www.PrivatePlusMortgage.com

Contact