Cairo's Supermarket Expo Increased Exhibitors Satisfaction Using iMakaseb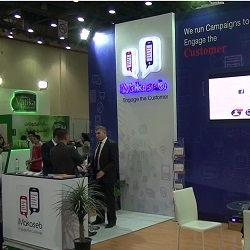 Dubai, United Arab Emirates, August 15, 2016 --(
PR.com
)-- Last June, iMakaseb showcased its promotional concept to the thousands visiting Expo supermarket to enjoy the numerous offers presented by leading brands and stock up on key staples before the holy month of Ramadan. Consumers usually visit the exhibition to check the latest Packaged Goods and Brand offerings, discounts, bundles and new product launches.
On the occasion iMakaseb partnered with 10 different FMCG exhibitors to run their Expo offers using its innovative platform demonstrating the iMakaseb classic "text and win" service, distributing more than 10'000 free eCoupons used by 6,000 consumers within three days, they enjoyed texting the aCoupons via SMS, Web and Facebook Channels.
"We used iMakaseb's Services to attract more consumers to our booth and promote our brand in a very efficient way," said Mohamed Ibrahim, the CEO of one of the famous Tea Brands distributed regionally.
iMakaseb is pleased to witness the appeal of its services to an increasing number of multinational and local brands alike as evident through the new contracts signed during the duration of the Expo. To deliver even more innovation to the market, iMakaseb continues to launch newer features at flexible pricing models, with Free upgrade for existing iMakaseb customers.
Contact
iMakaseb
Moatasem Osam
00201001795888
www.iMakaseb.com

Contact