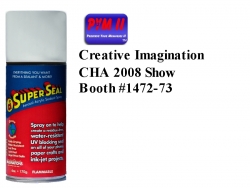 Huntington Beach, CA, January 20, 2008 --(
PR.com
)-- Creative Imaginations has partnered with Precision Blue, LLC to market their patented clear acrylic coating spray to the photo and crafting industries under the brand name CI SuperSeal.
"Creative Imaginations will distribute
PMYII
under its own "Super Seal" brand, and will be introduced at the CHA 2008 show, at their booth #1472-73"
CI SuperSeal is a sealant spray that easily coats and preserves inkjet prints, paper craft projects, scrapbook layouts, water slip decals, newspaper clippings and more. It creates a residue-free, water resistant, UV blocking seal that takes on the texture of the material being coated. This environmentally-friendly (VOC exempt) coating dries quickly to the touch, fully curing in 24 hours.
CI SuperSeal as an all-in-one sealant spray:
· Coats and Preserves Scrapbook pages, Paper Crafts, Inkjet Prints, Vellum, Plastics, Copper, Metals, Marker Art, Pencil, Chalks, Autographs, Digital Prints, Newspaper, Inkjet Canvas, Giclee Prints
· Quick Drying (less than 2 minutes, it's dry to the touch)
· Acid Free
· Contains a UV Blocker to protect color-fading
· Non-yellowing
· Takes on the texture of material being coated
· Provides Write-Erasable surface (after completely cured)
· Protects like a laminate
· Water repellent
· Eliminates fingerprints
· VOC exempt – Environmentally Friendly
Unlike other brush-on or spray-on sealants, CI SuperSeal does not distort or cause bleeding of the materials used or remain tacky after drying. Ideal for use by photographers, paper crafters, scrapbookers, altered artists, paper sculptors, woodworkers and many others.
Available in a 6 oz. aerosol can.
For Further Information:
Contact: Diane Michioka, Marketing Director
(DianeMichioka@CreativeImaginations.us)
Phone: 714.500.1200 ext. 119
Fax: 714.500.1202
Website:
www.CreativeImaginations.us
###