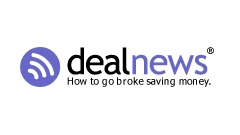 Huntsville, AL, February 16, 2006 --(
PR.com
)-- dealnews.com has long been the ultimate source of consumer deals in all major product categories including computers, computer accessories, electronics, gadgets, gift items, apparel and more. dealnews is currently offering the most up to date discounts, rebates and special deals on MP3 Players, including tons of discounts on the extraordinarily popular iPod.
Psst…Did you know that? …
The Apple Store offers qualified students, teachers and their staff, the new iPod Nano 1GB MP3 Player, in either black or white for $129.00US. – source, dealnews.com
A factory-refurbished iPod Shuffle 512MB MP3 Player can be purchased for as low as $52.00. It's $10.00 lower then seen before. – source, dealnews.com
The Apple iPod "video" 60GB MP3 Player is being offered for $375.00US shipped. – source, dealnews.com
For music lovers on the go, portable chargers are available for just $5.99US and protective cases for just $2.99US – source, dealnews.com
Visit for the most up to date iPod offers on the market:
http://dealnews.com/categories/Electronics/Portable-Media-Players/MP3-Players/i-Pods/387.html
About
dealnews.com
, Inc.
Relying on thousands of monthly reader submissions and expert editorial research, dealnews.com reports on the best deals with dealcoupon.com providing a huge list of web coupon codes usable at hundreds of online stores and dealmac.com providing hardware and software bargains just for Apple Macintosh users. In addition, dealnews' dealram.com, dealink.com, and dealcam.com sites are product-focused comparison search engines. Launched in 1997, dealnews' services are nationally recognized and have achieved award and recommendations from The New York Times, PC World, Computer Shopper, The Washington Post, ZDNet, and many others. dealnews is a privately held corporation headquartered in Huntsville, Alabama.
###