Game of Thrones Queen Taps EDB to Build Her Keep: Dwell Magazine Features Lena Headey's Home Designed and Built by West Hollywood Firm
Los Angeles, CA, September 12, 2016 --(
PR.com
)-- The October 2016 issue of Dwell Magazine features the home of actress Lena Headey, who stars in the popular HBO series 'Games Of Thrones' as Cersei Lannister. In an exclusive interview, EDB's founder, Ted Broden, recounts his time working closely with Ms. Headey by discussing architectural choices for this specific property, design challenges along the way, and why it was a tremendous pleasure to help "Envision, Design, Build" for the talented actress.
"It is very much an honor to be featured in the October issue of Dwell Magazine. Lena was a joy to work with and I am very proud of the home we created for her and her family," said Mr. Broden.
Broden spearheaded the project and was able to perfectly capture Lena's vision for a midcentury design. "Visually, I like the simplicity of midcentury design. I like the lines of it more than the other styles you see here in L.A.," Headey explained.
Ted Broden and the #EDBLA team are prestigious designers and builders of luxury single-family homes throughout California. Headquartered in West Hollywood, whose mission is to help make your vision of a new home a beautiful, functional, livable reality. EDB oversees all aspects of high-end residential real estate design and development, from property acquisition through certificate of occupancy. Envision, Design, Build your dream home with #EDBLA today: http://www.edb.la
Contact
DragonFire Digital Marketing
Melissa Okabe
424.209.9539
http://dragonfiredigitalmarketing.com

Contact
Multimedia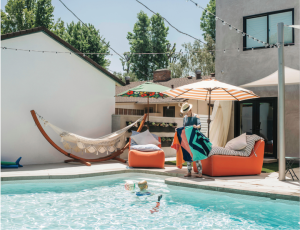 Lena Headey's Home Designed by EDBLA as featured in Dwell Magazine