LGI Lighting Technology is Proud to Release the All New Easy to Install MagnaLED Do It Yourself Retrofit Kit
The MagnaLED retrofit Kit is an easy to install DYI retrofit kit that converts any fluorescent fixture into an LED fixture.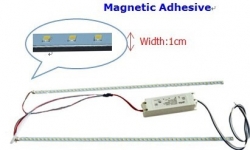 Los Angeles, CA, September 29, 2016 --(
PR.com
)-- LGI Technology proudly announces the launch of the all New MagnaLED Retrofit kit.
The MagnaLED is the latest addition to the Los Angeles-based, commercial-grade LED manufacturer's LED retrofit line up.
The MagnaLED is designed to retrofit troffers by removing the tubes, disconnecting the ballast and adding the LED strips. The magnetic strip and driver makes this product very easy to install. LGI Technology has released a full instructional video on YouTube for more details.
"This is a DIY product and no tools are needed to retrofit your fixture," Product Manager Rob Setian said. "Our main focus when designing this kit was to keep it simple and I believe we were able to achieve our goal."
Available in 4000K or 5000K, 2-foot or 4-foot version. ETL certified and DLC listed including a 5-year warranty.
More details and product data sheet are available at www.lgitek.com/
For more information on where to purchase the products or to become a distributor, please contact LGI Technology at: info@lgitek.com or (877) 221-8182.
Follow us on YouTube #MagnaLED for DIY videos of this product.
About LGI Technology
LGI Tech is a major solid-state lighting development and manufacturing company based in Southern California. The company specializes in retrofit lighting for the commercial market, offering a comprehensive line of LED lighting solutions. LGI Technology is fully integrated with strong R&D capabilities to consistently offer the latest technology available. For more information on LGI Tech, please visit www.lgitek.com. For all of the latest updates, follow LGI Technology on Twitter, LinkedIn, Facebook, YouTube, and Instagram.
Contact:
Rob Setian – LGI Technolgoy
+1-877-221-8182
E-mail:info@lgitek.com
Web site: www.lgitek.com
Contact
LGI Technology
Robert Setian
(877) 221-8182
www.lgitek.com

Contact