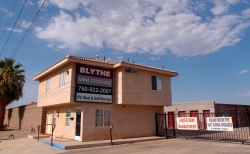 Laguna Beach, CA, October 06, 2016 --(
PR.com
)-- LNR Partners has retained industry expert Dean Keller of Bancap Self Storage Group, Inc. to market and sell the Blythe Mini Storage property in east Riverside County, California. The property was foreclosed on by the special servicer on behalf of the lender in early 2015. The offering represents a rare opportunity to purchase an "REO" in otherwise very strong market conditions.
Located just off of the Interstate 10 Freeway in the Colorado River Valley, Blythe Mini Storage has nearly 64,000 net rentable square feet of indoor storage space demised into 471 units in 14 buildings. The facility also offers 29 outdoor RV & boat parking spaces for a total of 500 rental spaces.
The property offers all "drive-up" single-story self storage units in concrete block buildings with metal roofs, metal partitions and metal roll-up doors. There is also an on-site rental office and second-story manager residence on the 3.7 acre site.
Built in 1992, the investment property has a gross potential income of over $500,000 in rental income plus miscellaneous income sources. The property is currently 68% occupied, giving a new owner outstanding upside potential through increased occupancy and income.
"Current market conditions are so strong that it is rare to have a lender-foreclosed property available for sale now," said Dean Keller, President of Bancap Self Storage Group. "This property represents a great upside opportunity for someone looking to get into the self storage business or to expand their existing portfolio."
The property will be sold via on-line auction using the Ten-X platform, formerly known as Auction.com. The property offering has a minimum bid of $1,000,000 to start the auction on November 14th. Complete information on the auction process and all due-diligence documents can be found on the Ten-X website or by contacting the listing broker Dean Keller.
Bancap Self Storage Group is one of the top self storage specialist brokers in the industry with a track record of over $1.3 billion in completed self storage sales. The company has specialized exclusively in self storage properties for over 30 years. Dean Keller is currently the president of the California Self Storage Association Board of Directors and a member of the Board of Governors for the national Self Storage Association Foundation.
For more information contact Bancap Self Storage Group at 949-715-2233 or visit the company web site at
www.bancapselfstorage.com