Mahaffey Tent & Event Rentals Appoints Daniels as Director of Operations
Memphis, TN, October 14, 2016 --(
PR.com
)-- Mahaffey Tent & Event Rentals, the most trusted event rental provider in the South, today announced the addition of John "Jack" Daniels as director of operations. He brings more than 20 years of experience in event planning and operations to the team.
"One of the key strategies Mahaffey has employed for the strategic growth of our company is to identify the right people for the right positions," said William Pretsch, president and CEO at Mahaffey. "We are excited to welcome Jack back to the team and look forward to continued success on behalf of our loyal customers."
Daniels has deep roots in the Memphis event industry, and is not a new face to Mahaffey, as he previously served as director of operations. Prior to rejoining the team, Daniels was a service manager at NES Rentals for the Cordova and Memphis branches. Prior to that, he served as a volunteer coordinator and operations manager for Memphis in May International Festival. Daniels also currently owns an event company, EventOps, which specializes in corporate events and managing event budgets.
As Director of Operations at Mahaffey, Daniels is responsible for leading all field and warehouse operational efforts. His will focus on developing solutions to enhance customer service, as well as increasing internal productivity.
"Event planning and development has become more than just work to me; it's something I genuinely enjoy," said Daniels. "I spend a lot of my free time making special trips to visit various events to see what's new and interesting in the industry. I find pleasure in having the opportunity to build a team tasked with succeeding under the pressure of explosive growth."
When Daniels is not working, he enjoys traveling throughout the Mid-South on his motorcycle, cheering on the Memphis Grizzlies and spending time with his wife, Lindsey, and son, Jackson. Daniels volunteers for various projects at St. Jude Children's Research Hospital and at his son's school. He has called Memphis, Tennessee, home for the last 10 years.
About Mahaffey Tent and Event Rentals
Mahaffey Tent and Event Rentals is an all-inclusive, one-stop-shop tent and event rental source with more than 90 years of experience creating innovative and memorable event spaces for weddings and special events. Founded in 1924 and still a privately-owned company, Mahaffey is the leading provider of event rentals in the Mid-South. For more information, visit
www.mahaffeytent.com
.
Contact
Mahaffey Tent & Event Rentals
Beth Wilson
901.278.3773

Contact
Multimedia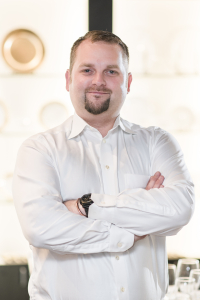 Jack Daniels, Director of Operations, Mahaffey Tent & Event Rentals