Taylor Hobson Launch the Form Talysurf® i-Series Multi-Axis, Driving Automated Quality Control in Automotive Manufacturing
While the use of highly automated manufacturing systems in automotive production is well established, quality control has remained a manual process. The arrival of the Form Talysurf® i-Series Multi-Axis system for automated quality control will change that.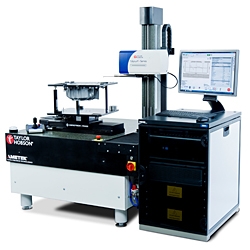 Chicago, IL, November 04, 2016 --(
PR.com
)-- Automation has to be flexible enough to deal with rapidly changing product components. Taylor Hobson's new Form Talysurf® i-Series Multi-Axis systems deliver automated surface finish, form and contour measurement at the touch of a button. The system can be programmed to your individual requirements for analysis of crankshafts, heads, blocks, gear box casings and much more.
"Meeting manufacturing challenges is at the heart of our business," said Bob Bennett, Engineering Director, Taylor Hobson Ltd. "The introduction of the Multi Axis i-Series could revolutionise automated measurement of automotive components. The Multi Axis not only continues a tradition of taking measurement accuracy to the next level, but reflects the evolution of the manufacturing industry and meets the needs of engineers and designers who rely on these instruments for the daily demands of automotive manufacturing."
The Form Talysurf® i-Series Multi-Axis system is part of a high accuracy instrument range capable of simultaneous surface finish and contour measurement. The system's low noise axes and high resolution gauge ensures measurement integrity with choice of gauge ranges providing versatility for a variety of applications. Temperature compensation is standard across all i-Series models, this unique system monitors and feeds back changes in ambient temperature, ensuring consistent system performance regardless of environmental effects. This is critical for measurement on the shop floor where external influences can impact system accuracy.
The Form Talysurf® i-Series Multi-Axis System is supplied with Taylor Hobson's Q-Link production interface, software that meets the Industry 4.0 philosophy. Q-Link is designed for shop floor environments and provides direct communication with SPC software which delivers feedback to your manufacturing process. Instruments are controlled by barcode scanning and display traceable pass/fail results and automatic summary reports. Component handling and loading is made easy with dedicated fixtures. Operator mistakes can be prevented with programmed measurement routines and the simultaneous fast axis movements to reduce cycle times and increase throughput.
Established in 1886 Taylor Hobson is the world leading manufacturer of ultra-precision measurement instruments for a wide range of markets including optics, bearings, automotive, precision manufacturing and nanotechnology research. It is part of the Ultra Precision Technologies division of AMETEK, Inc., a leading global manufacturer of electronic instruments and electromechanical devices with annual sales of more than US$4 billion.
www.taylor-hobson.com
Tel: +1 (630) 621-3099
taylor-hobson.usa@ametek.com
Contact
Taylor Hobson
Nick Maddock
+44 116 246 3079
www.taylor-hobson.com

Contact