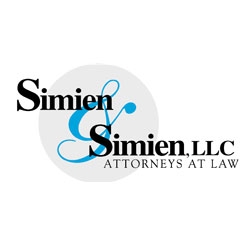 Ascension Parish, LA, November 09, 2016 --(
PR.com
)-- On Friday Nov. 4, 2016 an Ascension Parish jury awarded $4.4 million to a Geismar, Louisiana, mother and father for the wrongful death of their two children who were struck and killed by an SUV on Tuesday, July 24, 2014 on Bluff Road, a few miles south of Interstate 10 in Ascension Parish.
The SUV was driven by Shawnette Taylor, who lost control when her vehicle's wheel, veered off the road and could not recover from a steep embankment. This embankment caused the vehicle to drive into a group of people fishing in a nearby bayou killing the children and sending the three adults to the hospital.
Trial attorney Eulis Simien, Jr. a Partner in the Simien & Simien, LLC firm said, "We are very happy to have been part of having justice served on behalf of the Lanus family. They can now hopefully begin the process of closure as the Louisiana Department of Transportation has been told by a jury that its dangerous and negligent design and maintenance of the roadway embankment at a popular site was the primary cause of this horrible accident and needs to be addressed before others are seriously hurt or killed."
Eulis Simien also said that "the obviously dangerous manner in which the embankment was constructed and maintained should have never been allowed and, despite the denial of the Louisiana Department of Transportation, the jury sent a message, which was a mandate for improved safety for the citizens using the highways of Louisiana."
The family was represented by Eulis Simien, Jr. and Jimmy Simien of the Simien & Simien, LLC Law Firm with Offices in Baton Rouge, Lake Charles and New Iberia LA.
David Lanus and Shayla Lanus v. State of Louisiana through the Department of Transportation and Development, et al., 23rd JDC, Suit No. 65,216, Div. "D" Plaintiffs' counsel: Eulis Simien, Jimmy Simien, Plaintiffs' experts: Dr. Dean Tekell, Highway Design, Safety and Traffic Engineer.
About Simien & Simien
Simien & Simien, LLC, has offices located in Baton Rouge, Lake Charles and New Iberia, Louisiana. The firm's areas of practice include Serious Injury, Complex Litigation, Oil & Gas Litigation including Land & Water Contamination cases and other Environmental Cases and has earned the AV Preeminent® rating from Martindale-Hubbell®.
Simien & Simien
(800) 374-8422
7908 Wrenwood Blvd.
Baton Rouge, LA 70809