Walnut Creek Award Winning Artist Celebrates the Season with Open Studio Exhibition & Sale
See Beauty in both the Light and the Dark! Invitation to a 1 day annual exhibition of high quality drawings and paintings at artists' home studio.
Walnut Creek, CA, November 28, 2016 --(
PR.com
)-- Colorist and visionary American artist, Mira M. White, an award winning painter with an exhibition record both domestic and international, will hold a holiday exhibition and sale. Her annual art event offers a unique perspective on the image of an artist's studio. White annually transforms a two-bedroom apartment in the unincorporated area of Walnut Creek where she both lives and works. Every year at the holiday season, White re-organizes her living and work space to accommodate an expansive show, putting on display a great variety of work—many pieces for sale for $100 and less.
The well-attended exhibit includes new and older work, many discounted and some offered at full price, and in a variety of media that demonstrate the artist's great versatility. Watercolors, pastel paintings, mixed media pieces, oils, and also encaustics pack the walls of the open studio space.
The work is multilayered and often complex in meaning. "I consider myself a storyteller," the artist says. Her deeply felt images stem from a lifelong devotion to life as an ongoing journey of change and transformation.
Mira M. White is not only a working artist whose art reaches well beyond Contra Costa County, but also a teacher with a full teaching schedule of classes and workshops in multiple media. Widely respected in Northern California Bay Area art communities, she has in recent years broadened her teaching venues to include workshops in Florida, North Carolina, Nebraska, and Washington.
Encaustic Arts Magazine featured White's work in its June 2015 issue. Other publications that have also honored her work: Gathering Clouds in 2014; Inquiring Mind in 2012 & 2014; and The Pastel Journal featured her pastel, mixed media work in its Jan/Feb 2011 issue. Her work is included in the 2010 anthology Best In American Water Media. She is also featured in a recent anthology: Journeys Into Abstraction.
Contact
Mira M. White Fine Art
Mira M. White
925 947-5773
www.miraMwhite.com

Contact
Multimedia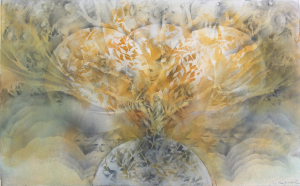 This large, symbolic Graphite & Soft Pastel Drawing is multi layered in both imagery and technique. The work is both atmospheric and detailed, permitting the viewer to take a delightful journey.