How to Deal with Political Stress This Holiday Season
Jan Bidwell interview: "Mediation for Stress" on Dr. Mara Karpel's WYOU Blog Talk Radio show, Your Golden Years on Sunday, Dec. 11, 2016 at 5:00PM/CST.
East Lansing, MI, December 07, 2016 --(
PR.com
)-- 'Tis the Season to Stress: Politics, Economy, Climate Change?
Meditation can make the Season Brighter!
"Sitting Still," author Jan Bidwell, will explain how meditation strengthens and calms our overly active minds.
Jan Bidwell is a political activist as well as a meditation activist. Her diverse career paths continue to inform her unique approach to mediation. Jan has worked as a social worker, psychotherapist, small business owner and organizer of charitable foundations.
Jan has practiced and taught meditation for over 30 years. Meditation has always been a major part of her journey. "It is simply powerful to sit and focus on the present moment on a daily basis." -from "Sitting Still."
Politics has entered all of our lives in an extreme way and Jan knows that kind of intensity needs special attention: "Being thrown into politics for the first time in this cycle must be overwhelming for people. It must be very hard to handle this without meditating every day," Jan has managed several political campaigns, including her own for State Senate.
Bidwell will discuss Mediation for Stress on WYOU Blog Talk Radio on Dr. Mara Karpel's show Your Golden Years on Sunday, Dec. 11, 5:00PM/CST. Tune In and Call in live: (855) 345-4720. Stress Less during the Holidays! Purchase Jan's Book & Meditation Downloads at janbiwell.com for great gifts!
Contact
Jan Bidwell
201-707-2463
janbidwell.com
201-236-0046

Contact
Multimedia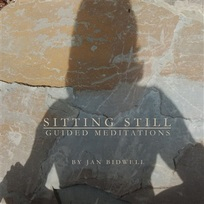 Activist Meditation helps activists and others who want to learn how to meditate, but don't know how to simply sit still. Through concrete examples, Bidwell shows how we can all strengthen and empower our daily lives by developing a regular practice of sitting still.