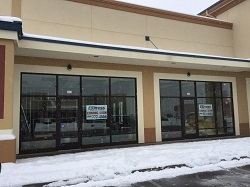 Coeur d' Alene, ID, December 21, 2016 --(
PR.com
)-- Express Employment Professionals of Post Falls today announced that it will relocate its office to Coeur d' Alene in January, 2017.
Franchise owner Jessica Bauman made the announcement, speaking at the Coeur d' Alene Chamber of Commerce's monthly Upbeat Breakfast at the Coeur d' Alene Resort. The new location, at the Crossroads Shopping Center (often referred to as the WinCo Center,) will begin operation on January 30, 2017. Pointing to the explosive sales growth of the office, Ms. Bauman said "In the last few years, we've had four times the number of employees working for us, and expanded the number of clients by over 40%. So we've had to double our core staff size, and we've simply outgrown the space. That space, in the Post Falls Chamber of Commerce building, is a very nice professional facility for any company looking for good office space."
"We're very excited about the move, and continuing our service to businesses in Kootenai County and the surrounding area with our full line of staffing services, in a very central location," Bauman said. "North Idaho has a dynamic workforce and growing economy, and we're proud to be able to provide jobs to hundreds of individuals and to help companies by providing custom staffing solutions."
Express Employment Professionals has served the Idaho panhandle for 15 years out of its Post Falls location. "We've grown up in Post Falls," Jessica said "and we're going to stay connected to the many friends that we've made in both companies and various community organizations. We're not going away, by any means. We're just moving down the road."
Express Employment Professionals serves the Idaho panhandle in the administrative, commercial and professional areas with permanent and temporary help, as well as on going strategic support for companies with customized training programs and a variety of HR services.
The new office will be located at 2834 N. Ramsey Road, Suite 104, Coeur d' Alene ID, 83815. The telephone number is 208-667-JOBS (5627).
Express is on a mission to put a million people to work annually. In 2015, the company generated $3.02 billion in sales and employed a record 500,002 people. The Post Falls office issued more than 5,000 paychecks in 2016, and employed more than 500 people at some 170 companies throughout Northern Idaho.