Korea Tourism Promotion by International Students from Asia & Middle East Countries
"Korea Tourism Promotion by International Students from Asia & Middle East Countries" - Traveling Korea and Promoting Korea Tourism Through Social Media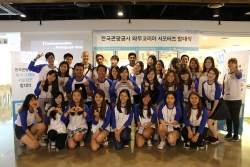 Seoul, Korea, South, December 23, 2016 --(
PR.com
)-- Korea Tourism Organization (Pre. Jung Chang Soo) operated "WOWKOREA" project, which provides Korea Tourism information targeting on FITs (Free Individual Tourist) in Asia and Middle East countries through social media.
WOWKOREA supporters group, composed of international students in Korea interested in Korea and tourism, promotes Korea tourism by exploring travel resources in Korea and creating social media contents. 140 supporters had participated from 2012 to 2015, and 35 students from 15 countries including Vietnam, Indonesia and Malaysia have been selected as 2016 supporters.
Since August, supporters group have traveled all around Korea; Busan and Ulsan, Gyeongsangbuk-do province, which is full of historic sites, Jeollanam-do province where sights and taste coexist, Gyeonggi-do province, where it is easy to access from Seoul and the last trip to Gangwon-do province where 2018 Pyeongchang Winter Olympic Games will be held, and endeavored to produce and show useful contents about Korea tourism on WOWKOREA official social media.
Unlike the last year, WOWKOREA not only has provided tourism information, but also has created trendy contents by utilizing card news or video clips and running online event promotions to get tourists' interests. With these efforts, the number of WOWKOREA official facebook page fans and the interaction index have achieved more than 4 times and 70 times of growth each compared to the last year.
Christian Lagahit, one of 2016 WOWKOREA memebers from Philippines said, "I tried my best to create contents to introduce Korea's beautiful tourism sites to my homeland friends and family by traveling around Korea with WOWKOREA."
Whlie the number of tourists visiting Korea from Asia and Middle East countries is estimated to be more than 2.4million this year, Korea Tourism Organization will expand the targeted Asia and Middle East markets by increasing the use of social media and related tourism marketing by online supporters program in the following years.
The official WOWKOREA contents and activity notice can be seen on WOWKOREA Supporters blog (
http://wowkorea-supporters.blogspot.kr/
) and facebook page (
https://www.facebook.com/wowkoreasupporters
).
Contact
EC21
Hyerim Kim
+82-2-6000-4463
www.ec21.com/

Contact