New Magazine Centers Christians of Color, Aims to Disrupt Stagnant Media
New faith-based magazine targeting communities of color neglected by traditional publications and aiming to diversify Christian media landscape launches Kickstarter campaign to fund first print issue.
New York, NY, January 04, 2017 --(
PR.com
)-- Faithfully Magazine, a news and lifestyle publication dedicated to consistently centering Christian communities of color, has launched a Kickstarter campaign to publish its first print issue later this month. The magazine's ultimate goal, with the success of the initial Kickstarter campaign, is to publish at least three additional issues by the end of 2017.
"Faithfully Magazine remains fully focused on its mission as a news and lifestyle publication that advocates for, celebrates and informs Christian communities of color," said Faithfully Magazine founder Nicola A. Menzie. "The Kickstarter campaign will help us produce a variety of content that reflect the conversations, issues and events communities of color say are important to their faith and to their lives."
"According to the U.S. Census Bureau, people of color, minorities account for 37% of the population, and that figure is expected to nearly double by 2060," she added. "Yet, study after study shows that media organizations continually fail to reflect those demographics among their editorial staff and executive leaders," Menzie added. "Sadly, Christian news media is no different."
The Kickstarter campaign for Faithfully Magazine, located at http://kck.st/2i0nnbs, was launched Dec. 23, 2016, with the goal of crowdfunding $15,000 by Sunday, Jan. 22 2017. As of Jan. 2, the campaign had achieved just 4% of its goal.
The campaign, listed as "Let's Launch a News & Lifestyle Mag for Christians of Color" on Kickstarter, offers a variety of rewards for backers. Rewards range from a digital "thank you" note for a pledge of $5 to a combination of a print and digital copy of the premiere issue plus the backer's name listed on faithfullymagazine.com and a premium t-shirt with the motto "Do Good. Obey God. Stay Woke." for those who pledge $50. Higher-end rewards include sponsorship or advertisement opportunities ranging from $1,000-$3,000.
Some exclusive content appearing in the full-color, 80-page premiere issue of Faithfully Magazine include:
-Christians of Color sharing in their own words how they are moving forward under a Donald Trump presidency;
-A diverse survey of responses on whether the term "Evangelical" should be dumped or redefined;
-A gripping feature on an ex-con who converted to Christianity in prison and may have to go back
-A revealing Q&A with Lecrae's Reach Records lablemate Trip Lee in which he gives his take on "secular" gospel music and explains how, as a pastor, he cares for a faith community of both Trump and Clinton voters;
-A sit-down with the husband-and-wife leaders of Crossover Church, a popular urban ministry that's also a millennial magnet.
"The amazing thing about Faithfully Magazine is that it attracts a diversity of readers and supporters. For example, much of the content for the premiere issue was produced by Christians of color, while the crowdfunding campaign has received major support from backers who are white," said Menzie. "Could it be because leading Christian publications that lack any real diversity are still stuck on trying to affirm what black and Hispanic believers have been saying for decades about their experiences? Perhaps readers are tired of stagnant themes and looking for faith-based content that moves beyond such conversations."
Menzie has been a member of the press for more than 10 years, working mostly in the digital medium. She has reported on Christians strategizing to address police violence and on African-American responses to Donald Trump and interviewed the Christian activist who rocked a major conference and the pro-life movement with her remarks on Black Lives Matter. It was her vision for Faithfully Magazine that earned her a coveted Spring 2016 Fellowship with the Tow-Knight Center for Entrepreneurial Journalism. It was there Menzie worked through various iterations of Faithfully Magazine in her pursuit to develop a product to serve communities of color.
"As someone who admires how the black press historically functioned to support and celebrate African Americans, I believe Faithfully Magazine can, and should, take on a similar role for Christian communities of color," said Menzie.
"If you believe Christian news media, and U.S. media in general, need the contributions of diverse voices and perspectives, particularly on issues directly impacting communities of color, then you need to support Faithfully Magazine's Kickstarter campaign," she added.
Faithfully Magazine's first issue rolls off the press in late January. Visit the Kickstarter campaign to reserve your copy today: https://www.kickstarter.com/projects/faithfullymag/faithfully-magazine-news-and-culture-for-christian.
About Faithfully Magazine (via www.faithfullymagazine.com/about): Faithfully Magazine is a news and lifestyle publication that advocates for, celebrates and informs Christian communities of color by centering the conversations, issues and events they say are important to their faith and to their lives.
About Nicola A. Menzie (via www.nicolamenzieonline.com): Nicola A. Menzie is a religion reporter, entrepreneur and founder of Faithfully Magazine. Some of her bylines appear at Religion News Service, The Christian Post, CBS News, and Vibe.com. She is a member of the National Association of Black Journalists and the Religion News Association.
About Kickstarter (via www.kickstarter.com/about): Kickstarter helps artists, musicians, filmmakers, designers, and other creators find the resources and support they need to make their ideas a reality. To date, tens of thousands of creative projects — big and small — have come to life with the support of the Kickstarter community. Since its launch, on April 28, 2009, 12 million people have backed a project, $2.8 billion has been pledged, and 117,864 projects have been successfully funded.
Contact
Faithfully Magazine
Nicola A. Menzie
347-687-8795
www.faithfullymagazine.com

Contact
Multimedia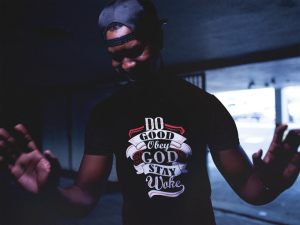 This photo shows an example of the premium t-shirt with Faithfully Magazine's motto -- "Do Good. Obey God. Stay Woke."