Word War II Mystery Novel, Chameleons, Now Available on Amazon.com, Kindle and in Book Stores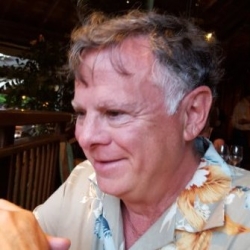 Carefree, AZ, January 21, 2017 --(
PR.com
)-- Chameleons, a newly released novel by Marcus A. Nannini.
ChameleonsNovel@aol.com-PO Box 2800, Carefree, AZ 85377.
Available at Amazon.com, including Kindle, and elsewhere now.
Chameleons' approach to the "date which will live in infamy" is from the seldom-seen perspective of an Imperial Japanese Navy midget submariner. The author sets forth a strong argument that members of the Imperial Japanese Navy succeeded in melding into the local Japanese population, never to be discovered.
In focusing on who, perhaps, is the ultimate "illegal alien" Marcus Nannini turns our attention to Lieutenant (junior grade) Masaharu Yokoyama. Yokoyama was the most qualified of the five midget submarine commanders who were sent to attack Pearl Harbor on December 7, 1941. He was charismatic, courageous, focused and lived by the words: "Vision, Spirit, Patience and Honesty."
Nannini transports the reader from the image of sailors crawling for their lives over the hull of the capsizing U.S.S. Oklahoma, into modern day Oahu, and points in between with seamless transitions as the life of Yokoyama is peeled open for inspection. Nannini uses no fewer than 16 images to bring to life the people and events depicted in this harrowing tale of courage in the face of nearly overwhelming odds.
It is a story of courage, questioning moral certainty, duty, honor, and, above all, doing the right thing without regard to potential negative consequences.
What they are saying:
"A well-written novel requires an author to master many skills. For me, the most important is to keep the reader so engrossed that he or she finds it hard to take a break. Based on this… Chameleons is such a story." -Don Westenhaver, Southern California Writers Association.
"Overall, I thought it was a great story. I liked your transitions and use of flashbacks, as well as your approach for the presentation of Chameleons." -John Bean, EBooks2Go.
"Chapter Fourteen (the Plank Bar) is the best chapter of any book I've ever read." -David S. Mathias, Rebel Woodworking.
Link to Amazon page:
https://www.amazon.com/Chameleons-Actual-Events-Commander...
ISBN: 0692814353
ISBN 13: 9780692814352
Library of Congress Control Number: 2016920544
Contact
Marcus Nannini
480-215-8451
www.linkedin.com/in/marcus-a-nannini-57136436?trk=nav_responsive_tab_profile

Contact