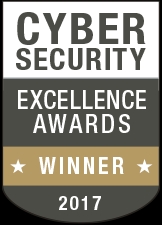 Washington, DC, February 10, 2017 --(
PR.com
)-- Chuck Brooks, Vice President at Sutherland Government Solutions, and Chairman of The New Emerging Technologies Committee for CompTIA, was named winner of Cybersecurity Marketer of The Year at the 2017 Cybersecurity Excellence Awards.
The 2017 Cybersecurity Excellence Awards recognize companies, products and individuals that demonstrate excellence, innovation and leadership in information security. The finalists and winners were selected based on the strength of their nomination and the popular vote by members of the Information Security Community (both ratings and comments).
"Congratulations to Chuck Brooks for winning the Cybersecurity Marketer of the Year category in the 2017 Cybersecurity Excellence Awards," said Holger Schulze, founder of the 350,000 member Information Security Community on LinkedIn which organizes the awards program. "With over 450 entries, the 2017 awards are highly competitive. All winners and finalists reflect the very best in leadership, excellence and innovation in today's cybersecurity industry."
Chuck's thought leadership writings on cybersecurity have helped shape the public policy debate as he is respected in industry, in the Federal Government, academia, and on Capitol Hill. He has been a force in discussing, advocating, promoting cybersecurity issues across digital media, at events, in professional forums, and with a variety of public policy organizations.
He has been a leading evangelist for cybersecurity, homeland security, and emerging technologies in both the public and private sectors. He was selected by LinkedIn as "One of the Top 5 Tech People to Follow On LinkedIn" by LinkedIn. He has been a featured speaker at numerous events and conferences. He recently presented at a workshop sponsored by The National Academies of Sciences, Engineering, and Medicine and the Federal Bureau of Investigation on Securing Life Sciences Data. He recently spoke at George Washington University event about the Cyber Threat Spectrum, will be participating soon at USTRANSCOM Senior Leader Cyber Security Roundtable.
Chuck has authored numerous articles focusing on cybersecurity, homeland security and technology innovation for many publications including Forbes, Huffington Post, The Hill, Federal Times, IT Security Planet, Bizcatalyst 360, Next Gov, Alien Vault, Gov Tech, MIT Sloan Blog, Government Security News, and Brink. Chuck is a pioneer in social media with over 32,000 followers on LinkedIn and a global following and has brought significant attention to cyber issues from his frequent posts and commentaries. He has been involved as a judge for the past four years as a Judge for Government Security News' Annual Homeland Security Awards.
As a senior executive in government relations, marketing, and management, Chuck brings a unique experience from service in the public sector, academia, and industry. He serves on a variety of boards, many of them philanthropic. He brings a substantive knowledge on a broad range of cyber issues and a special subject matter expertise of cybersecurity and homeland security in government that have benefited both the not-for-profit, public, and commercial sectors.
Chuck is one of the original "plank holders" at the Department of Homeland Security (DHS). Admiral Jay Cohen, former Under Secretary for Science & Technology at DHS stated, "Chuck Brooks as Director of Legislative Affairs at DHS, was invaluable to me, the DHS S&T Directorate, DHS, the Nation and Congress in making the 'reformation' of DHS S&T a complete success. His Hill/DC acumen, insight, reliability, ability to develop highly effective congressional interaction/communications is without peer in my nearly 16 years dealing with senior executive branch officials, industry, academia and the Congress."
Dexter Ingram, Senior Advisor to Interpol, said the following about Chuck: "He is a consummate professional who has a deep understanding of the issues, process, and people involved in the world of homeland security and Law enforcement. His breadth of experience derived from working on The Hill, in government, in academia, in industry, and with the media make him truly unique."
Chuck worked for many years on Capitol Hill for the late Senator Arlen Specter and covered national security, foreign affairs, and technology issues. He also was a member of the Adjunct Faculty at John Hopkins University where taught homeland security for two years. He has advised a multitude of organizations including the Bill & Melinda Gates Foundation, The Cyber Resilience Institute, and the Center for Advancing Innovation. He also serves as Chairman of CompTIA's New and Emerging Technologies Committee, and is a member of the AFCEA Cybersecurity Committee. He is on the Board of Advisors for CyberTech, and on the Board of Directors at Bravatek, and the Cyber Resilience Institute. He is an advisor to R & D cybersecurity company Inzero Systems. He is a subject Matter Expert to The Homeland Defense and Security Information Analysis Center (HDIAC), a Department of Defense (DoD) sponsored organization through the Defense Technical Information Center (DTIC. Chuck also serves as a Christian Science Monitor "Passcode Influencers Panel member" on Information Security. He has a BA from DePauw University and an MA from the University of Chicago.