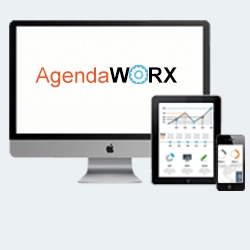 New Rochelle, NY, February 23, 2017 --(
PR.com
)-- inSite is pleased to welcome the Exxaro Pension and Provident Funds, ArcelorMittal SA Selector Pension and Provident Funds, Mittal DB Pension Fund, Kumba Iron Ore Selector Pension and Provident Funds, Enigma Solutions and others to their AgendaWorx platform.
They join Momentum, Absa, SAB Provident Fund, among others, in subscribing to AgendaWorx, an online agenda pack and meeting management tool that allows you to manage your meetings, participants and tasks from one simple platform.
"Clients want immediate and real-time access to their meeting documents, assigned tasks, voting polls, etc. It is for this reason that they value AgendaWorx - because it works on any device and across any platform," says Zeldeen Muller, CEO and Founder of inSite Innovative Education Solutions, the company that created and supports the product.
What makes this tool unique is that it requires no software downloads, updates, or syncing, which makes it easy to switch between devices as clients prepare for meetings.
"You can prepare for meetings on your laptop or desktop while at the office, and continue on your tablet or smartphone from home, on the train, or wherever you are, hassle free," explains Rolf Nel, a member of the development team.
Zeldeen and her team understand that businesses want to have one platform from which they can manage all their teams and meetings, and AgendaWorx offers them this flexibility. Clients are able to manage the entire meeting process on AgendaWorx. This includes:
· Creating meeting packs
· Inviting attendees
· Assigning tasks during the meeting
· Managing action items and transferring tasks to employees post meeting
· Setting reminders for action items
Another unique benefit is that clients can create their agenda pack directly in AgendaWorx. This saves them hours when they have to prepare their next agenda or minutes.
"The system also manages all action items for you, which allows you more time to grow your business, rather than focusing on administration of current business. It is more than just a meeting tool: it is an electronic whiteboard available to all your employees, from any device, with no need to download any software. And yes, all the information is encrypted," confirms Zeldeen.
Start-ups, small businesses and large corporates are therefore able to empower their teams using this online tool.
The AgendaWorx system is very competitively priced, completely secure, and user-friendly; and therefore ideal for all businesses, irrespective of their size, who want to drastically cut down on the time and money they spend on managing meetings and teams.
To get the tool, go to
www.agendaworx.com
or email Zeldeen at
info@agendaworx.com
for more information.
Stop drowning in paper. Dive into the world of paperless, smart meetings.
Save time, save effort, save money, and reduce your carbon footprint.