Midwest Breast & Aesthetics Surgery Moves to New Office
Midwest Breast & Aesthetic Surgery got a new office. The space offers a spa-like-setting to accommodate and provide better experience to its patients.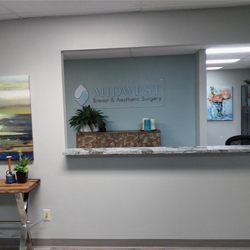 Gahanna, OH, March 13, 2017 --(
PR.com
)--
Midwest Breast and Aesthetic Surgery
just moved to a new office.
While the new space is just across the hall from the previous one, it is over twice as large. It also offers their patients a spa-like setting with a cozy decor and soothing music streaming from the built-in sound system.
The practice was founded by Dr. Ergun Kocak and Dr. Pankaj Tiwari in 2013, in order to provide patients across Ohio and surrounding states with state-of-the-art plastic surgery and quality care. In the time since, Dr. Bianca Chin has joined Midwest Breast & Aesthetic Surgery and provides services in and around Cincinnati. Through their efforts to provide wellness and reconstruction for breast cancer survivors, the practice has developed an inspiring community between former and prospective patients, surgeons, and staff.
"With the addition of Dr. Bianca Chin, we have seen tremendous growth over the last couple years," says Dr. Pankaj Tiwari. "By expanding our offices, we will be better equipped to not only serve our patients but open our doors to more patients who wish actualize their aesthetic and reconstructive goals."
"We have been absolutely blessed by the community that's developed from our practice," shares Dr. Ergun Kocak. "Through the expansions we've made, we are looking forward to seeing this community truly flourish."
Since its founding in 2013, Midwest Breast & Aesthetic Surgery has continued to fulfill their promise of providing advanced plastic surgical and breast reconstructive procedures in comfortable and intimate environments that are closer to patients' homes. Dr.'s Tiwari, Kocak, and Chin provide personalized, one-on-one care that allows them to understand the needs and goals of their patients.
While the surgeons at Midwest Breast & Aesthetic Surgery specialize in breast reconstruction, breast reduction, and breast augmentation, they also excel in body contouring procedures including Liposuction and Abdominoplasty (Tummy Tuck).
Last February marked Midwest Breast & Aesthetics Surgery's third year anniversary. Since its inception in 2014, has grown into one of the premier plastic surgery centers in the Midwest. Dr.'s Tiwari, Kocak, and Chin continue to provide state-of-the-art reconstructive and plastic surgery services to women across Ohio, Kentucky, Indiana, Michigan, West Virginia, and Pennsylvania.
Come visit their new office at Gahanna, Ohio 43230. The office number is 855-687-6227. Visit their website at https://www.mwbreast.com
Contact
Midwest Breast & Aesthetic Surgery
Ergun Kocak
614-686-4083
https://www.mwbreast.com

Contact