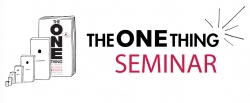 Wichita Falls, TX, March 03, 2017 --(
PR.com
)-- Tim Lockhart, owner and lead agent of the Lockhart Real Estate Team, Keller Williams Realty is making it possible to bring national speaker and Vice President of MAPS Business Training, Don Hobbs to Wichita Falls.
The Best-Selling book, The ONE Thing is changing minds, businesses, and lives. And the seminar event of the same name, is touching whole communities through influential business leaders, who are bringing the ONE Thing to their cities across the nation. Now, you can be part of the movement, the visionary leaders to change the city of Wichita Falls and Texoma region by attending this event coming soon to Wichita Falls.
Based on the ONE Thing, Gary Keller's #1 Wall Street Journal bestseller featured on more than 190 bestseller lists, this seminar reveals the surprisingly simple truth behind extraordinary results. Co-author, Gary Keller, founder of Keller Williams Realty, who built the #1 real estate company in the world in terms of agent count with over 141,000 agents worldwide in just over 30 years makes focus, results and success very simple in his powerful book. In addition, he's been awarded Earnest & Young's Entrepreneur of the Year award, and has been the finalist for Inc. Magazine's Entrepreneur of the Year award.
And he's done it all by living ONE Thing. The ONE Thing is for busy people who want to accomplish more by doing less.
The event will be held at the Wellington Conference Center on Thursday, April 6, 2017 at 8:30 a.m. until noon.
"I'm super excited to have the opportunity to bring this event to Wichita Falls. I met Don Hobbs while at the Expansion Systems Orientation course at Keller Williams International in Austin, TX last year, and when he told us about the national tour I immediately saw the huge positive impact these concepts will make in our region by making Wichita Falls a ONE Thing Community. By applying these concepts we've grown our business 121% per year for the last four years in a row. This is really powerful stuff," says Tim.
In this seminar you'll walk away empowered to:
· Combat the six lies that destroy productivity and derail results.
· Implement the ultimate Success Habit into your efforts
· Thwart the four thieves that hold you back from extraordinary results
· Accomplish your goals by Goal Setting to the Now
· Constantly drill down to the ONE Thing you can do right now that will make everything else easier or unnecessary
The registration link is http://www.mapsbusinesstraining.com/one-thing-seminar
If you are interested in more information or even being part of the visionary leaders making this event possible, contact Tim Lockhart at 940-228-1730.