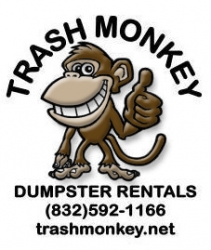 Pinehurst, TX, March 08, 2017 --(
PR.com
)-- In an effort to reduce landfill deposits, Trash Monkey Dumpster Rentals is introducing a strategic program to Recycle Discarded Residential Dumpster contents.
Keith K. Engelke President of Trash Monkey Dumpster Rentals a subsidiary of Engelke Enterprises Incorporated states "Local landfills are experiencing a increased level of residential deposits." As a result Trash Monkey has implemented a program to Recycle the contents of its roll off dumpters. "Due to the fact 90% of our customer base is residential, this just makes sense. Metal, paper, plastic, and wood products are items that can be recycled to reduce landfill deposits. This will give our customers the peace of mind knowing they are helping keep recycables out of local landfills," says Mr. Engelke.
Trash Monkey services Montgomery and Fort Bend Counties which has experienced a substantial amount of growth during the past 18 months. Both counties rank among the fastest growing counties in Texas. Experts believe this growth trend will continue in these counties and through out the entire State of Texas.
Mr. Engelke believes the Recycling Program could reduce landfill deposits from Trash Monkey by as much as 100 tons per month. "We believe this will be a 'Win-Win' for both our customers and Trash Monkey," states Mr. Engelke.
Trash Monkey Dumpster has three locations to service customers. These locations include The Woodlands, Pinehurst, and Katy Texas. With the completion of the new Grand Parkway we can service residential customers from Rosenberg to New Caney. Specializing in small residential mini roll off dumpsters that are generally used for remodeling, estate cleanouts, and pre/post move cleanouts.
Contact:
Keith K. Engelke
Email: sales@trashmonkey.net
31479 State Highway 249
Pinehurst TX 77362
Ph. 832.592.1166
www.trashmonkey.net