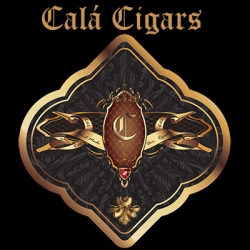 Miami, FL, March 15, 2017 --(
PR.com
)-- Calá Cigars founder and owner Jose Calá was born in the city of La Vega, in El Cibao, Dominican Republic. Calá's parents retired to the heart of the tobacco growing and manufacturing industry, a place called Santiago de los Caballero. Calá's parents, who own 20 acres of land in Tamboril, used it to farm tobacco from time-to-time. This is where Calá's passion for cigars and tobacco growing began. In one of the many visits to his native country to visit his beloved family, Calá, joined forces with his uncle Luis Rosario. Rosario, a legendary master cigar blends man, and Calá decided to start a family owned cigar company and brand. That moment was the birth of Calá Cigars. Calá, a cigar aficionado and cigar smoker himself, understood what people were truly looking for in a well constructed cigar. Consistency in the blend, excellent draw, beautiful aroma and let's not forget the flavors. Combining all the experience of Calá's father, his uncle and Calá himself in the tobacco industry; they have created a medium body blend that 's truly a gentleman's cigar. For the Calá Family, creating cigar blends is like making a great wine which appeals to all kinds of taste palettes.
Calá selects only the best premium fillers for superb taste and strength. They hand select the finest wrappers produced in one of the best places in the world - Santiago, in the Dominican Republic, and for those cigar aficionados looking for a well blended cigar at a competitive price, Calá Cigars invite you to try their cigars. Calá Cigars – Gran Reserva The name Calá in the Greek language means beautiful. They truly created a beautiful cigar with its perfect lines and its Dominican Habano Rosado wrapper. The Calá cigar truly has an amazing eye appeal. An all Dominican hand rolled cigar made in Tamboril Santiago de Los caballeros Dominican Republic. The Calá cigar is rolled to perfection for an excellent draw. It features a triple cap which is put on with a natural gum and a touch of sweetness. This allows the smoker to enjoy the hint of sweet on the lips without compromising the aroma and flavor of the cigar.
Starting on the first third of the Calá Habano, there are notes of the natural tobacco with some black pepper. As the flavor profile takes form, the natural tobacco notes become primary. The flavor stays constant throughout the whole smoke of the cigar's sweet aroma. Calá cigar's goal is to produce a consistent flavor tasting with a full strength aroma.
Blend Profile
· Wrapper Dominican Habano
· Binder Dominican
· Filler Dominican
Available Sizes
· 5 x 50 Robusto
· 6 x 50 Double Corona
· 6 x 52 Torpedo
About the Master Blender
Luis Rosario was born on November 1, 1951. He is known for being one of best master blenders in Santiago, Dominican Republic. With over 50 years of experience, Rosario started working in the tobacco industry at the early age of fifteen. Being a curious young man, he embarked on a journey that today rewards him for cross-functional knowledge of the tobacco industry.
His love for cigar making process started with curing and turning the soil, growing, harvesting, critical measurements through the process of fermentation and then bringing all that process together developing blends to deliver a well-blended, balanced and masterful cigar into the hands of his customers.
In the 1970's, Rosario was mentored by one of Cuba's best master cigar manufacturers, Efrain Gonzalez owner of Dos Gonzalez Cigars in Santiago, Dominican Republic, where he started working side by side with Eladio Diaz; that today is one of the key member of a very successful brand.
Luis Rosario and his children have openly shared their passion, knowledge and experience with tobacco owners. He is proud of the accomplishments his children have achieved by following in his footsteps, but still adding their passion to the ever-growing industry. His son Ariel is a highly skilled master blender for one of the biggest cigar manufacturers in Santiago, Dominican Republic. Luis Rosario has worked for well-known Tabacaleras such as La Flor Dominicana and Cortez to name a few. During his tenure, he has created famous cigar blends that are still recognizable and profitable today.
For more information please visit www.calacigars.com