Letting Your Leadership and Influence Skills Weaken Can Create Madness
Your Influence May Need Some Work, Monday to Monday®. Without regular work on your leadership communication skills, you could find the madness in your own work environment.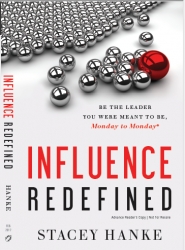 Chicago, IL, April 06, 2017 --(
PR.com
)-- Your Influence May Need Some Work, Monday to Monday®.
March Madness may be over, but the need to keep your skills sharp never ends. Focusing on your leadership and influence skills year-round will save you from creating madness in the future. True influence isn't given. It can't be bought. It's earned, and it doesn't come easy. Every day, week in and week out, from Monday to Monday®, a person who wants to be a leader with authentic influence needs to work consistently on the necessary skills.
Becoming an influential leader doesn't just happen because you survive the madness. The mark of a true leader is one who knows that he or she is never 'there': the capability to influence a team, think ahead and lead them to victory, is an ever-changing mark that has to be diligently pursued. But how?
Stacey Hanke's new book Influence Redefined makes the claim that many leaders might not be as influential as they think they are, or as they could be. Her Influence Model is an actionable step-by-step system that will show anyone in a leadership role how to develop their influence through a results-based style, so that interaction with them will lead to action, now and in the future.
"Anyone interested in improving their ability to influence others should read this book. Stacey Hanke takes years of research and transforms it into a through-provoking guide that is fun to read and easy to apply." -Mike Dufrene, Director of Customer Financial Services, Coca-Cola
A leader can never assume that they have true influence over the people they are meant to be directing. In fact, that assumption is what leads to their demise, with self-sabotaging behavior. Influence Redefined can be the catalyst that puts an end to empty leadership with false tactics and measurements, leading individuals instead to a place of true influence.
Be the Leader You Were Meant to Be, Monday to Monday®
Contact
StaceyHanke Inc
Stacey Hanke
773-209-5970
http://StaceyHankeInc.com
Stacey@StaceyHankeInc.com

Contact