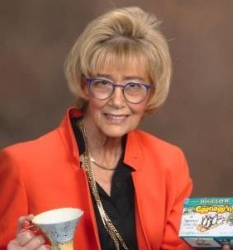 Wilton, CT, May 11, 2017 --(
PR.com
)-- About Lori Bigelow
Lori Bigelow grew up in a family that specializes in developing tea. She earned her degree at Keene State College before joining the family business, Bigelow Tea. There she learned the nuances of making specialty teas, including a sense of blending, sipping, tasting, and tweaking, which ultimately led to the development of some of Bigelow's favorite and best loved teas. The seasonal favorite Ginger Snappish, Vanilla Chai, and the Novus line are just a few of many of the blends she created. Before retiring, Ms. Bigelow was on the board of the U.S. Tea Association and a former member of the Canadian Tea Association. She was instrumental in the Bigelow Tea's purchase and restoration of the Charleston Tea Plantation. The South Carolina Plantation grows and produces American Classic Tea and is open for tours and weddings. Ms. Bigelow says of her career in the tea industry, "As those who came before me, tea has been my life…and it's been a great one." Ms. Bigelow is an honored Lifetime Member of the America's Registry of Outstanding Professionals.
www.bigelowtea.com
About Strathmore's Who's Who
Strathmore's Who's Who publishes an annual two thousand page hard cover biographical registry, honoring successful individuals in the fields of Business, the Arts and Sciences, Law, Engineering and Government. Based on one's position and lifetime of accomplishments, we honor professional men and women in all academic areas and professions. Inclusion is limited to individuals who have demonstrated leadership and achievement in their occupation, industry or profession.