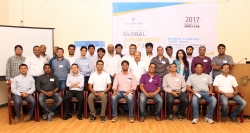 Pune, India, April 25, 2017 --(
PR.com
)-- Global Azure Boot Camp is a community driven event supported by Microsoft. On 22nd April 2017 thousands of technology enthusiasts converged at local events organized in over 250 locations all over the world. Global Azure Bootcamp 2017 was the biggest bootcamp yet – appropriate for the fifth year anniversary. Well over 10,000 attendees world-wide showed up for Global Azure 2017 events across the globe.
Fintech Thought Leaders organized the Central Pune event as part of the Global Azure Boot Camp, at Poona Club. The tag line for this event was: "Limited Cloud, UnLimited Beer." This event was planned and targeted for practitioners working in the Financial Services space or those aspiring to work in this domain. Over 50 participants attended this event at Poona Club on a hot Indian summer afternoon. It was a half day event, starting in the afternoon with sessions focused on Azure cloud and the challenges faced in the financial services domain. The event was hosted by Payal Gill, a technologist working in Barclays, Pune.
The event started off at 3:30 with an ice breaker session hosted by Payal, who got everybody talking about their interest in Azure cloud.
Romulus Dias, Co-Founder of FinTech Thought Leaders took some time to introduce the audience to FinTech Thought Leaders. FinTech Thought Leaders (FTTL) is a community of software practitioners working in the Finance domain. FTTL was formed by individuals from the FinTech space, who felt that there was a need for a platform for practitioners from this industry to get together and share their experiences and talk about the innovative work they are doing. The platform will enable the practitioners in this space understand the common challenges the industry faces, drive innovation and nurture leaders who are willing to think out of the box.
The community has over 300 active members besides an executive team of 20 practitioners from the industry.
The event saw an impressive line-up of speakers, and the first speech was from Mark Chempanal who is currently working with Barclays. Mark took the audience through the Mobile Development landscape and the challenges faced by developers. He then explained the Xamarin offering and how Xamarin has come up with a better development model unifying the language, toolset and user interface framework. The session was very interactive with an engaged audience asking many questions on Xamarin.
Sachin Pawar, Founder and Director of No Brain solutions spoke about Azure Event sourcing. He took the audience through the event driven model and explained how it is different from the transactional model.
By 6:45, the only speaker standing between the audience and the chilled beers, was Brijesh Ammanath. Brijesh spoke about Machine Learning and also gave the audience a flavour on how easy it is to get started on it by showing a hands on demo.
Post the speaker sessions, Romulus gave out prizes to the raffle winners. The prizes were sponsored by Microsoft DX, ServiceBus360, Opsgility, CloudMonix, MyGet, SentryOne and JetBrains.
Payal then thanked the audience and speakers for helping make it a wonderful session and asked everybody to join in the networking event organized in an open air terrace.
The post speaker session was organized by Nilesh Kadam from Vrunik Solutions - one of the sponsors of the event. Nilesh is a keen music enthusiast and had set the evening up as a dedication to George Michael. Speaking about the connect between music and software development, Nilesh said: "So many of the best minds I have met in computing have a love for music. I believe this is something to do with being able to see beauty in complex numerical systems. George Michael has been an inspiration for me and I wanted to dedicate this evening to him."
Creating music and software are both collaborative and individualistic undertakings. Musicians are generally technically engaged. The instruments themselves often interface with other devices (amps, mixers, mutes) to achieve different sounds. Composers often deal with an array of technologies to get their music written, performed and produced. Music is an abstract medium - the printed note requires interpretation and execution. Like the written line of code, there is often much more than meets the eye. Guitar players in particular make great programmers. Instrumentalists have to zoom in to work with very repetitive technical details, and so become very focused - like a guitar player practicing a piece of music at a slow speed. But, the best programmers are able to then zoom out and see the big picture, and where their coding fits into the whole project, much like an artist has to step back from a painting and see the whole of it, or an instrumentalist has to produce something that communicates a complete work, not just the scales and technical aspects of it. There are rhythms and cadences of algorithmic flow.
After having spent the afternoon learning the nitty gritties of Azure Cloud, the audience took the opportunity to wind down and relax over light music, tasty nibbles and chilled beer on a cool Indian summer evening.
Speaking about the entire event, Navnath Bondarde, Co-Founder of FinTech Thought Leaders, said, "We continue to be amazed by the level of enthusiastic support we receive from the technical community in Pune. We had participation from a spectrum of companies including some big names like MasterCard, Barclays, Deutsche Bank attend today's event. Our goal is to nurture and provide an environment for Thought Leadership in the FinTech space and be at the forefront of technical innovation."
You can find more about FinTech Thought Leaders at their website: www.fintechthoughtleaders.com.