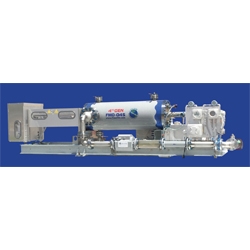 Phoenix, AZ, June 09, 2017 --(
PR.com
)-- Flow Management Devices (FMD) introduced its new 4th Generation Unidirectional Captive Displacement Prover at ISHM (International School of Hydrocarbon Measurement) in Oklahoma City. FMD's new prover design includes enhanced performance features as well ease of serviceability, cementing FMD's position as the leader in Unidirectional Captive Displacement Provers.
When designing and developing the 4th Generation line of provers, FMD took into consideration feedback from customers and their field experiences. "We are a very customer-focused company," states Alex Ignatian, President and CEO. "Our customers are the driving force behind the 4th Generation release." Some of the key areas of enhancement include decreased overall weight, increased volume capacity, improved serviceability and upgraded safety features.
An overall weight and mass reduction of roughly forty percent significantly reduces flow disruption, consequently allowing better proving results for all meter types, especially Coriolis and ultrasonic. The increase in volume capacity is accomplished with a completely redesigned piston and poppet assembly. The new design allows for smoother operation and the availability of more volume for measurement, reduced run-up time and minimal flow disturbance during closure.
Serviceability and safety improvements include an easily accessible piston and poppet assembly, as well as an optional davit arm. The redesigned, lighter weight shaft seal retainer was simplified and has fewer parts to service, resulting in fewer labor hours and less downtime. As a safety feature, observation windows have been added to the drive end giving the operator visual access to the belt and shaft assembly as well as the motor drive assembly while the prover is functioning.
The 4th Generation family of small volume provers will be available for sale the first quarter of 2018. For additional information, please visit our website
www.flowmd.com
.