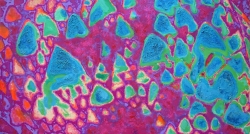 New York, NY, June 13, 2017 --(
PR.com
)-- Judith Gale Mont's solo exhibition, Hidden Wonders, is inspired by the molluscan seashell's manifold of colors, patterns, and textures. Mont has combined Abstract Realism with the universe of the shell to transform its natural beauty into high-energy mixed-media paintings. Through reworking colors and magnifying patterns, she adds to the shells' surreal qualities. The intricacies of the natural world that we typically overlook explode onto the canvas, and yet her work maintains the organic quality of marine life. Overall, an integrative technique of naturalism alongside her imagination illuminates the subtle wonders of these molluscan creations, while elevating the unique patterns into something phantasmagorical.
In addition to illustrating the beauty of marine life, Mont's work serves as a highlight for environmental concerns. These hidden sources of wonder are gradually disappearing. With the devastation of coral reefs worldwide, mankind is losing some of its most precious spectacles. She encourages us to move beyond our own perspective to see the glories of the universe of molluscan life. Through this artistic rendering, she wants us to seek in every nuance of these shells, patterns of ourselves. Thus, her works serve a dual purpose: to magnify and to promote an appreciation for these hidden sources of wonder.
From Judith Gale Mont: "Reflections of my deep passion for nature captivated me towards discovering the infinite intricacies found in living things. This intrigue led me below the waters into the fascinating world of marine life. The architectural details, in the home where these molluscan animals dwell possess an abundance of diversity. I have spotlighted this beauty through close examination interlaced with imagination."
June 13th – July 8th, 2017
Reception: Thursday, June 15th, 6-8 P.M.
Pleiades Gallery
530 W. 25th St. #405
NYC 10001