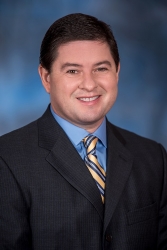 New York, NY, June 29, 2017 --(
PR.com
)-- Chris Jones, Durante Rentals Co-Founder and CFO, was honored with the 2017 Small Market Companies: Thinking Big Award at the 2017 CFO Innovation Conference. The awards ceremony and dinner were held before hundreds of executives at the New Jersey Performing Arts Center and honored some of the sharpest CFO minds in the country. CFO's received recognition in fourteen CFO-focused categories with finalists and award recipients selected by an independent panel of judges.
The Thinking Big Award celebrates the CFO who has overcome the small company mind-set, has instilled a sophisticated management style into the company, and has inspired leadership, employees, and partners to grow and succeed despite limited resources and against larger and more formidable competitors.
"My journey as CFO of a
construction equipment rental company
has been an interesting one, with many learning curves along the way, especially since my background is in tech, media, and not-for-profits," said Chris Jones. "Being honored with this prestigious Innovation Award is something near and dear to myself, my partners and my staff as Innovation is one of our company's four core values. We take extreme pride in each department's innovative approach to running the day to day business and are grateful for the recognition by CFO Studio and their business development partners."
About Chris Jones
Chris holds a degree from the College of New Jersey in Business Administration and Accounting. His career journey began when he founded Progressive Solutions, an accounting and consulting firm that specialized in assisting start-ups and distressed companies. As the leading consulting CFO to over thirty accounts, he was instrumental in their progression to healthy and profitable businesses. Chris eventually sold the company paving the way to his partnership in Durante Rentals.
Chris teaches and competes in Judo and has trained with the National Teams of the USA, Barbados, and Argentina. As a soccer coach, he led his team to an undefeated season. He teaches his "Meditation for Professionals" class in NYC and Westchester and is a featured speaker on Western Buddhism. His students learn the mental and physical benefits for health while also using meditation to find their creative centers, peak performance, and to understand the discursive emotions that prevent most people from achieving their dreams.
About Durante Rentals
Founded in 2009 by three entrepreneurs, Durante Rentals is the most dependable name in construction equipment and tool rentals in the New York Tri-State area. Construction professionals look to Durante for all their equipment needs including excavators, skid steers, light towers, generators, compressors, forklifts, air tools, boom lifts and more. Now with eight convenient locations and counting, their geographic footprint continues to expand while servicing all five boroughs of NYC, Westchester, Rockland and Putnam Counties, Connecticut and New Jersey. For more information about Durante Rentals, visit www.DuranteRentals.com.