Stanley Yokell, Author Announces Publication of Becoming American by Outskirts Press
Becoming American is a historical novel that captures the immigration of a Russian family to escape Tsarist restrictions and the growth of a descendant to becom an American of the Greatest Generation.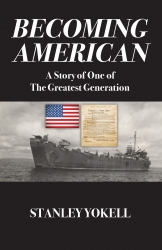 Boulder, CO, July 03, 2017 --(
PR.com
)-- Outskirts Press, Inc. has published Becoming American: A Story of One of The Greatest Generation by Stanley Yokell, which is the author's most recent book to date. The 5.5 x 8.5 Black & White Paperback in the Fiction/Historical category is available worldwide on book retailer websites such as Amazon and Barnes & Noble for a suggested retail price of $15.95. The webpage at www.outskirtspress.com/BecomingAmerican was launched simultaneously with the book's publication.
About the Book (Excerpts & Info)
Becoming American, A Story of One of the Greatest Generation, How the Child of Russian Ancestors Served America, begins with a description of the protagonist's ancestors time in Tsarist Russia. It follows their immigration to the United States, efforts to adapt, successes and the birth and growth of Vladimir Abrams from his earliest days through his adolescence, adulthood and service in the United States Navy in World War II and his return as one of America's Greatest Generation.
Deftly constructed at 242 pages, Becoming American: A Story of One of The Greatest Generation is being aggressively promoted to appropriate markets with a focus on the FICTION / Historical category. With U.S. wholesale distribution through Ingram and Baker & Taylor, and pervasive online availability through Amazon, Barnes & Noble and elsewhere, Becoming American meets consumer demand through both retail and library markets with a suggested retail price of $15.95.
Additionally, Becoming American can be ordered by retailers or wholesalers for the maximum trade discount price set by the author in quantities of ten or more from the Outskirts Press Direct bookstore at www.outskirtspress.com/bookstore
ISBN: 9781478789536
Format: 5.5 x 8.5 Black & White Paperback
SRP: $15.95
For more information or to contact the author, visit www.syokell@syokell.com
About the Author
Stanley Yokell is a retired professional engineer who lives in Boulder, Colorado. Like many Coloradans, he has had a full life of outdoor activities. His published books include The Ship, a book about a landing ship tank (LST) that saw combat in the Pacific during WWII; The Ride, (written under the pen name S. Israel), about his solo coast-to-coast bicycle trip to celebrate his 59th birthday; Dog Stories, about the important dogs in his life; A Happy Life, his autobiography; An Old Timer's Scuba Tales, an illustrated recounting of his nearly 1,000 scuba dives; Murder at Plato House, a murder mystery ; Old People, an anthology of stories about the elderly; Beneath the Surface, fictional tales of scuba diving; The Body in the Park, a murder mystery; The Murder on the Mall, a murder mystery; The Foothills Mystery, a mystery novel; 2084 The Secularist Revolution, a tale of how technology upset the power of religion over people; A little Book of American Haiku, which follows the classic Japanese form; Short Stories and Sketches, an anthology; and Drugs and Death, a P.I. novel. His technical books, all published by McGraw-Hill. are A Working Guide to Shell-and-Tube Heat Exchangers; Tubular Exchanger Inspection, Maintenance, and Repair, written with Carl Andreone; and Closed Feedwater Heaters for Power Generation: A Working Guide, written with Michael C. Catapano and Eric Svensson.
www.syokell.com
Contact
Stanley Yokell, Author
Stanley Yokell
303-494-2242
syokell@syokell.com

Contact