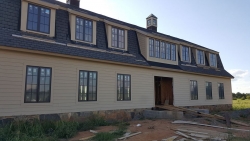 Richmond, VA, July 05, 2017 --(
PR.com
)-- From the rain forests of south-east Alaska to the deciduous forests of the Mid-Atlantic region, all are challenged to identify eco-sustainable products and/or services. As a result, the Wright Scoop recommends LP Smartside a wood-based siding as a Product of CARE.
LP Smartside, a wood-based siding –
Available in different sizes in smooth and textured finishes, LP SmartSide is identified to enhance the curb appeal of new and remodeled homes. Plus, it's the perfect complement to homes finished in other exteriors such as stucco, stone and brick. Available in long lengths for fewer seams and a beautiful appearance, its rich cedar grain texture or smooth finish is treated with our SmartGuard® a process which resists termites and decay. For details, visit website www.lpsmartside.com.
"We are using LP Smartside, a wood based siding," says Nea May Poole of Poole & Poole Architecture, LLC. "The beige color in construction photos is a primer, not the final color. We intend to match the original color. We chose LP SmartSide because it is an engineered wood siding known to resist damage from impacts better than fiber cement and vinyl siding. An additional benefit is LP is doing a time lapse marketing campaign around the barn which will provide for us, step by step documentation of our home's renovation." For details of the Poole family barn restoration project, visit web site www.barnatwalnuthill.com and/or Facebook group "the barn at Walnut Hill."
Eco Sustainable Product/Services of CARE –
Historically, earth-friendly is defined as reduce, reuse and recycle. Products and/or Services of CARE - conservation, accountability, recovery and eco-efficiency - takes this definition a step further. For, eco-sustainable products and/or services are not simply a result of lifestyle choice but reflect how we feel about the environment. While keeping it simple (as in simple living) is a guideline, there is a more important underlying factor – a commitment to ultimate greening: provide for present-day lifestyles without sacrificing future eco systems. LP SmartSide Lap Siding is a product identified to reflect such eco sustainable characteristics as well as connect people to the living green that surrounds them. For details of the program or other recommended products, link to blog article Eco-sustainable product of CARE, http://wrightscoop.blogspot.com/2015/12/products-of-care-eco-sustainable.html.
About Program Founder the Wright Scoop -
In 2012, a program – Plants of CARE, which spotlights a plant for its ability to inspire people to CARE – have a perspective of conservation, advocacy, recovery and eco-efficiency - was launched. To further emphasize individual eco-sustainable commitment, in January of 2014 a program – Product and/or Services of CARE was also launched. Product/Services of Care and Plants of CARE program nominations are solicited and accepted. To participate, provide a description that identifies the nominated plant/product/service - its origin, picture, eco-sustainable characteristics, and specifically why the plant/product/service should be included in a program; and, if possible, provide plant/product/service material that can be tested. For additional eco advocacy details, visit web site www.TheWrightScoop.com.
Sidebar: Restoration of the Barn at Walnut Hill - Through combining an artist eye with the skills of a 21st century architect, the barn at Walnut Hill is in full-blown restoration. To view and hear this unique story, link and view video "The Barn at Walnut Hill, old inspires new" at https://youtu.be/EQ9NGisv_OM
About the Wright Scoop – Sylvia Hoehns Wright has blog for Build Green TV and provides speeches and workshops for national and international conferences such as the All Cities Congressional City Conference held in DC and PLANET's Green Industry Conference held at Louisville, Kentucky. To view details of Wright's activities, visit website
www.TheWrightScoop.com
.
About Poole & Poole Architecture, LLC - Located 3736 Winterfield Road, Suite 102 Midlothian, Virginia 23113 is well-known for its specialty multi-family and single family. They practice throughout the southeast and have small offices in Nashville and Charleston. For details, contact v. 804.225.0215 or visit website www.2pa.net.
*photographer – Nea Poole