Momma Lynn Records (MLR), Announces Pacific Northwest Band, Cryptamnesia, Has Joined the Momma Lynn Family of Bands and Artists
Momma Lynn Records (MLR) announces Pacific Northwest area band, Cryptamnesia, has joined the Momma Lynn family of music and will be entering the studio this Summer with a planned Fall 2017 release.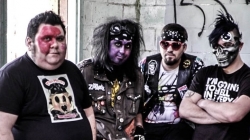 Seattle, WA, July 06, 2017 --(
PR.com
)-- Studio Sage in Edmonds, Washington is one of the hottest and busiest recording studios in the area and its co-owners Tim Sage and Francis Jaros will host Cryptamnesia this summer as they begin recording their new album "Bump in the Night." "We are pleased to add yet another motivated group of musicians to our family of bands and artists. It is truly inspiring to be a part of the Pacific Northwest Music Scene right now," said Momma Lynn Founder and CEO, Michael Decker. "This area of the country is filled with so much talent. More artists, and Music Industry Professionals are finding ways to keep the creativity flowing."
Cryptamnesia is a Theatrical Hard Rock band with a unique look and stage presence and is comprised of: Lead Singer, Josh "Ticker Twizted" Hamilton, Bassist, Aaron "Akon" Kirby, Guitarist, Thomas "Saryn Greymourn" Queen, and Drummer, Mike "Gilchrestius" Gilchrest.
Lead Singer, "Ticker Twizted," formerly of the band Ravages Of Time, says he is "Obsessed with everything supernatural and the Afterlife." Hamilton, who has Tourette Syndrome, has learned to embrace his condition and has successfully channeled his energy into several other creative outlets like writing, art and film-making. During a recent interview, he said, "We are aiming for a style of Hard Rock with spectral and mad, pseudo-science-like visuals and theatrics."
Bassist "Akon" is a musician and vocalist with a long list of accomplishments. "I started playing piano when I was 8 years old, and studied opera in 5 languages for over 10 years," said Kirby. "I performed in "Paride ed Elena" and "Orfeo ed Euridice" with Opera Popolare." A Self-taught guitar and bass player who recorded and toured in 2009 with the band "Amish Warfare." He is currently teaching piano, guitar, bass and voice in Bellingham, Washington.
Guitarist "Saryn Greymourn" said, "My interest for creating music started when I was in high school, I was a choir kid that later got introduced to Garage Band in a TV production class I was taking. I was already big into music and it gave me the ability to get out what was in my head." When asked about his influences, Queen said, "I've only been playing guitar regularly for the last 6 years, and my musical background is all over the place. My major influences are bands like Disturbed, Korn, Powerman 5000, Rob Zombie, Combichrist, Rammstein, and Three Days Grace. I want to give our music a heavier, deeper tone that has groove and feeling to it."
Drummer, "Gilchrestius" says, "I've been drumming for 13 years and have been all around Washington State rocking in cafes, basements, backyards, church halls, bars, big and small venues and the Mural Amphitheatre. I wasn't playing Metal all the time." When asked how he became a member of the band he said, "I heard a calling in my dreams that told me, 'Make Them Know Who You Are' and it led me to Cryptamnesia."
Contact Cryptamnesia: artistcontact@mommalynn.com
The Momma Lynn family of companies: Momma Lynn Records, Momma Lynn Publishing, and Momma Lynn Management, are a group of music related businesses headquartered in the Great Pacific Northwest with offices in Seattle and the Kitsap Peninsula.
Momma Lynn LLC
SAFECO Plaza
1001 4th Avenue, Suite 3200
Seattle, WA 98154-1003
(866) 699-2515
www.mommalynn.com
Contact
Momma Lynn LLC
Michael L. Decker
(866) 699-2515
www.mommalynn.com
mldecker@mommalynn.com

Contact