Moon Willow Press Announces the Exciting Adventure Novel and Series Finale of Infinite Games - The Battle for the Black Fen
Adventure/Speculative/Ecofiction; "The story of a clash between those who love the wetlands and their unique state and those who want to see them drained for development and other uses. A story of accepting nature and defending it against those who would defile it." –Midwest Book Review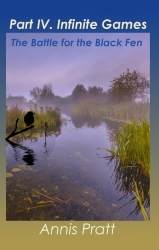 Detroit, MI, August 09, 2017 --(
PR.com
)-- Annis Pratt's novels are full of passion for the natural world and enthusiasm for the details of everyday life. Her invented worlds are more realistic than fantastic, and her speculative fiction imagines ways to live in harmony with each other and with our planet. Infinite Games is a four-novel series about Marshlanders who seek harmony with the Earth and each other. Marshlanders are creatively practical: always looking for new ideas about farming, irrigation, navigating, foraging, and weaving. Their enemies want to drain their wetlands for exploitation and profit: they pursue technology out of greed, and govern by male domination and military force. Infinite Games is the story of the Marshlanders' struggle to create communities in harmony with nature.
In The Battle for the Black Fen, three companies set forth to gather their allies for battle. The Dunlin Company returns William to his beloved farm. The Marshland Company is led by Clare, and The Delta Company is led by her mother Margaret. Years of planning consummate in a final battle. This is a novel about war, challenging beloved communities to take one last stand against evil at the battle for the Black Fen. It is also a novel about the messy outcomes of war, when the victors must find new ways to rule lest the whole cycle repeat itself. And those ways have to do with infinite rather than finite games.
About the author: Annis Pratt is a retired professor of English and Creative Writing at the University of Wisconsin-Madison.
About the press: Moon Willow Press is a small publishing company in British Columbia that focuses on environmental fiction, nonfiction, and prose.
Contacts:
Publisher: Mary Woodbury, Moon Willow Press (editor@moonwillowpress.com)
Author: Annis Pratt (annis@annispratt.com)
Contact
Moon Willow Press
Mary Woodbury
778-855-4925
moonwillowpress.com

Contact